II UPRIGHT CONSOLE ACTION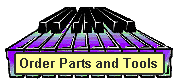 Study the UPRIGHT PIANO ACTION. Now, imagine eliminating the "Sticker"
completely. and imagine the capstan touching the bottom of the "Wippen" right
where the top of the "Sticker" attaches to the "Whippen." That is the only real
difference in "Consoles."
On some Yamahas and some old uprights, there is a wooden capstan on a rather
long wire mounted to the back end of the key lever. This gives some added height
to the piano without having to use a "Sticker." In that case, a piece of felt will be
mounted to the bottom of the "Whippen" and resting on the capstan.
Keep it lubricated with graphite.