STORE HOURS
9 TO 6 CDT
GMT minus 5 hours
Monday thru Friday
Do not call on
Sat. Sun. please

49. Piano Use Outdoors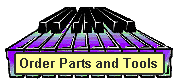 Need a piano moving dolly or truck??
We sell them worldwide.

Taking a piano out doors for a special occasion is not a great problem if the following are observed:
1. It must be a dry day with moderate humidity.

2. The weather must not change during the event,
and you must not leave the piano through the temperature change at sunset if you expect it to hold tune.

3. The piano must be carried into position, not rolled on its own casters.

4. The piano must be covered when not in use. Try to place it in the shade.

5. The piano should be tuned again after the outdoor event.
If your piano is going to be used through a summer season outside or in a tent location, you MUST not allow it to get moisture or humidity. There is no way to break this rule without damaging the piano. It would also be very wise to mount an electric heater bar in the piano if it is liable to get higher than normal humidity. Call your tuner about this. Also, beware of critters crawling into the piano between events.
Due to the influx of summer residents, Pinegrove Christian Reformed Church in Michigan has a big top tent in which they hold summer services. They keep the piano dry and well covered, and the piano does just fine, though it goes out of tune a little quicker than a piano indoors. During the winter, they store it inside a dry building.