STORE HOURS
9 TO 6 CDT
GMT minus 5 hours
Monday thru Friday
Do not call on
Sat. Sun. please

PIANO BENCH PADS
Select the bench pad you need after measuring your bench top.
These pads are made by Schaff Piano Supply Company in the USA,
and they are very high quality workmanship.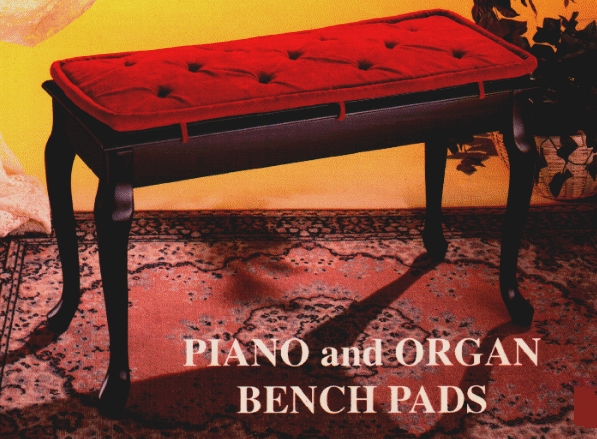 NAVY BLUE



BERRY RED


FOREST GREEN


BLACK


TAN


BROWN


LIGHT BLUE
Color sample only
texture is velveteen





These cushions are crafted at the Schaff Piano Company
workshop using only high-grade velveteen material. They
are tufted and padded with 1" polyurethane foam for comfort.
For durability and strength, all of these bench pads have
strapping ties which are double tacked to the pad.


Prices:

12-3/4" x 25" SH7800 $ 79.00
13-1/4" x 27" SH7801 $ 79.00
14" x 25" SH7802 $ 80.00
14" x 28" SH7803 $ 80.00
14" x 29-1/2" SH7804 $ 82.00
14-1/2" x 33" SH7805 $ 84.00
14-1/2" x 35" SH7806 $ 86.00
15" x 42" SH7807 $ 95.00
15-1/2" x 32" SH7809 $ 9000



ORDER BY PHONE WITH CREDIT CARD
Order by our Toll Free Number:
1 (800) 338-8863
OR:
Go to Order Form for printing:
Online help available