A fall board lock is a very important security item. Most grand pianos have an arrangement by which the top of the piano is locked when the fall board is locked. But, the factory lock on many grands is very simple and can be opened with a nail file or small screw driver. So, one of these fall board locks tells the public that the piano is only to be used by approved people.
Have extra keys made for all the people you want to play the piano. These locks will work on uprights also if the fall board and key bed height are not more than 6 inches.
_______________________________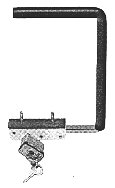 METAL FALLBOARD LOCK
This lock is easy to install and is a low cost item. It works just fine. If the key is lost, the padlock can be cut off and another one used. This is a small advantage over the lucite lock below. But, keep an eye on the plastic covering on the metal arm. Otherwise, it is very practical.
Part Number J204 PRICE: $ 117.00

Metal Fallboard Lock Modified for Digital Piano- PRICE: $ 133.00






LUCITE FALLBOARD LOCK
This lock is more esthetic. Has a 6 inch opening. Two pre-drilled shims included to adjust height. It is also easy to install, and it has the advantage that the lock is embedded in the locking arm. You only need to keep track of where the key is. Very sturdy item. Comes with two keys.
Part Number SH812 PRICE: $ 115.00
Keys for Old Style Fallboard Locks
Pedal Extenders-





These consist of a set of two extensions which attach to the existing pedals on your piano. They make it possible for a child, or a very short person, to use the pedals. They can be adjusted to fit the needs of the child as they grow up. Other musicians may also use the normal pedals without removing the extenders.

Pair of two extenders for sustain and quiet pedals
SH1845 $ 82.00


Carpet and floor saver-
Place under the pedals to prevent carpet damage. Beige or black.
SH5801 $ 43.50
---
STATUES
These statues are often given to younger piano students as awards for accomplishments.
Part Description: Part Number Price
Statuettes of Great Composers-
Give these as awards for achievement.
May be a useful teaching aid and quiz item.
Small Size- 4 1/2" high, 2" base-


Bach Macdowell
Beethoven Mendelssohn
Brahms Mozart
Chopin Rachmaninoff
Debussy Schubert
Grieg Schumann
Handel Strauss, J.
Haydn Tchaikovsky
Liszt Wagner

SH8879 series $ 5.90 ea.

Large size Statuettes- 5 to 5 1/2" high SH8880 series $ 6.60 ea.
Bach Mozart Beethoven Schubert
Brahms Schumann Chopin Tchaikovsky
Liszt Verdi Mendelssohn Wagner


ORDER BY PHONE WITH CREDIT CARD
Call (800) 338-8863

OR:
Go to Mail Order Form for printing:
Online help available