PUMP ORGAN
STOP KNOBS AMD FACES
ORDERING INFORMATION:
MINIMUM ORDER:
Minimum Order $20
SHIPPING POLICY:
Priority Mail shipping for most items. UPS by request.
You MUST browse the Catalog area, and try to learn what you want. We no longer search our catalog for you.
Have this information ready:
1. Description of parts
2. Part Numbers
3. Prices
4. Dimensions where needed
BEFORE you call us please.
Make sure you are in the catalog area for your kind of piano--
Such as Grand Pianos,
Full Uprights, Spinets, etc.
If you are confused, call us for assistance.
If we do not answer the phone, we are probably here-- Just leave a message- we will return your call (it may not be the same day).
:-)


These inserts go in the front of the pump organ stop knobs.
They are cellulose, and for liability purposes, they could be
flammable if you try hard enough to light them on fire.
Sorry the world is this way.
WARNING: Some computers throw the table below off so that you might order the
wrong number stop. So, we INSIST that you give us the NAME AND NUMBER
of each stop when you order.
Stop Faces are Celluloid and 7/8 inches in diameter.
NOTE: We are now having our stop faces custom made, so other names are available. Call for information. Price is the same; lettering is available in black or red.
SH721-1
SH721-2
SH721-3
SH721-4
SH721-5
SH721-6
SH721-7
SH721-8
SH721-9
SH721-10
SH721-11
SH721-12
SH721-13
SH721-14
SH721-15
SH721-16
SH721-17
SH721-18
SH721-19
SH721-20
SH721-21
SH721-22
SH721-23
SH721-24
SH721-25
SH721-26

Aeoline
Bass Coupler
Bass Forte
Bassoon
Bellows Signal
Bourdon
Celeste
Celestina
Cello
Clarabella
Clarinet
Cor Anglais
Cornet
Coupler
Cremona
Diapason
Diapason Bass
Diapason Forte
Diapason Treble
Dolce
Dulcet
Dulciana
Echo
Echo Horn
Flute
Flute Forte

SH721-27
SH721-28
SH721-29
SH721-30
SH721-31
SH721-32
SH721-33
SH721-34
SH721-35
SH721-36
SH721-37
SH721-38
SH721-39
SH721-40
SH721-41
SH721-42
SH721-43
SH721-44
SH721-45
SH721-46
SH721-47
SH721-48
SH721-49
SH721-50
Forte
Gamba
Harp Aeolienne
Horn
Melodia
Oboe
Octave Couple
Orchestral Forte
Piano
Piccolo
Principal
Principal Forte
Sub Bass
Swell
TrebleCoupler
Treble Forte
Tremolo
Trumpet
Viola
Viola Dulce
Violin
Vox Celeste
Vox Humana
Vox Jubilante
Assembly Hint:
The stop faces are somewhat translucent, so the black paint of the stop knob will tend to darken the stop face. Either paint the recess in the stop knob white, or use an opaque white glue like 100% silicone caulk.
Description of Part Part Number Price
Stops- Black enamel finish, without face
Straight- Each 451395A in graphic SH722 $ 5.85
Straight- Dozen 451395A in graphic SH722 $ 62.42
Beveled- Each 451395B in graphic SH723 $ 7.85
Beveled- Dozen 451395B in graphic SH723 $ 62.42
Stop Knob Faces-
Celluloid, Old English lettering,7/8 inch diameter See part No. in table $ 4.50 Each


---
CUSTOM MADE LASER ENGRAVED
STOP FACES AND TAGS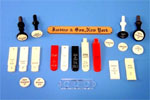 Computer Engraving We do both rotary and laser engraving on stop tabs, tags, draw knobs,
inserts, builder plates, and custom orders. We specialize in matching work for replacement tabs
and knobs and also do original matching WurliTzer, Barton, Kilgen, Robert Morton, Moller engraving.
We can make custom control plates for switches, clocks, etc. We make draw knob inserts in custom
sizes to fit turned wood knobs. Please feel free to contact us with your needs. We give 1 to 4 day
service on most orders. Labels for the controls on player pianos, as well as the speed needle indicator
can be made.

Here are the choices you need to make for any job you wish us to do:

| | | |
| --- | --- | --- |
| Engraving Project | Stop script choices | Stop Text Styles |

List the stops you need by using the yellow table above with the green borders.
SEND MAIL with yout information and attach digital photos if possible.
We will quote you a price for the work you want done.




ORDER BY PHONE WITH CREDIT CARD
Call Toll Free (800) 338-8863
OR:
Go to Mail Order Form for printing:
Online help available