STORE HOURS
9 TO 6 CDT
GMT minus 5 hours
Monday thru Friday
Do not call on
Sat. Sun. please



REED ORGAN PARTS
ORDERING INFORMATION:
MINIMUM ORDER:
Minimum Order $20
SHIPPING POLICY:
Priority Mail shipping for most items. UPS by request.
You MUST browse the Catalog area, and try to learn what you want. We no longer search our catalog for you.
Have this information ready:
1. Description of parts
2. Part Numbers
3. Prices
4. Dimensions where needed
BEFORE you call us please.
Make sure you are in the catalog area for your kind of piano--
Such as Grand Pianos,
Full Uprights, Spinets, etc.
If you are confused, call us for assistance.
If we do not answer the phone, we are probably here-- Just leave a message- we will return your call (it may not be the same day).
:-)

A reed organ is old and not very clear in tone. But, it has the sound of the days of Little House on the Prairie. The old clap board white churches of America of 150 years ago have reed organs.
But, the reed organs of the old parlors had an impressive gallary standing up nearly to the ceiling. There, the crystal dishes from Ireland were on display. The mirror reflected the gas lights around the room.
The sound of a well restored reed organ is one of peace and warmth.
SEARCH THE WHOLE SITE


Turn off the music here
PUMP (REED) ORGAN SUPPLIES
Part Description: Part Number Price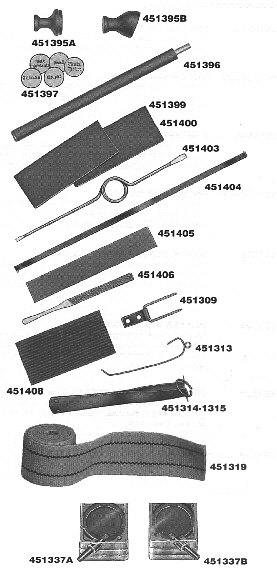 Stop Knobs- Black enamel finish, without face
Straight- Each 451395A in graphic SH722 $ 5.85
Straight- Dozen 451395A in graphic SH722 $ 62.42
Beveled- Each 451395B in graphic SH723 $ 7.85
Beveled- Dozen 451395B in graphic SH723 $ 62.42
Stop Knob Faces
Celluloid, 7/8 inch diameter 451397 in the graphic
CLICK HERE
to see listing of knob faces.
Stop Knob Rods-
Try saying that in a hurry :-)
Black enamel, 9/16 inches diameter
7 inches long with shoulder
451396 in the graphic SH729 $ 4.90 ea.
Dozen- SH729 $ 36.00
Bellows Valve Flap- Leather- Pair
2-1/4 inches wide by 14 inches long DA440 $ 10.80 / pair
2-3/4 inches wide by15 inches long DA441 $ 12.00 / pair
Reed Hook and Screwdriver-
Used to pull reeds from reed organs
451403 in the graphic no longer available
"T" Wooden Handle Reed Hook SS201 $ 10.00




Reed Scraper-
For tuning pump organ reeds-- 451404 in graphic SH714 $ 17.85
Reed Slip-
Stainless Steel 451405 Not Available
Reed File- 451406 Not Available
Reed Organ Pallet Rods-
3/16 inch diameter by 5 1/4 inches long SH706 $ 1.00 ea.
100 rods SH706 $ 18.00

Reed Organ Valve Springs- Spring loads the Pedal bellows
3 1/2" long 451313A in the graphic SH719-A $ 2.10 each
4 1/2" long 451313-B in the graphic SH719-B $ 2.10 each
Reed Organ Pedal Hinges- 451309 in the graphic SH726 not available
Reed Organ Wood Barrel Shaped Rollers
Used on old pump organs instead of casters-- Set of four-- SH701 $ 16.00
Reed Organ and Player Piano Bellows Springs-
Outward pressure-- If in doubt, replace them.
May come with ring attached to make installation easier.
8 lb. Thrust- 8" long- 451314 in the graphic SH8008 $ 11.90
6 lb. Thrust- 6" long- 451314 in the graphic DA272 $ 34.75
15 lb. Thrust- 8" long- 451314 in the graphic DA273 $ 19.90
14 lb. Thrust- 10" long- 451314 in the graphic DA274 $ 78.50
20 lb. Thrust- 12" long- 451314 in the graphic DA276 $ 87.50
Reed Organ and Player Piano Bellows Springs-
Inward pressure- 8 lb, 8" long- 451314 in the graphic SH0880 $ 11.90
Inward pressure- 5 lb, 8" long- like graphic SH0881 $ 10.90
Reed Organ pedal webbing- 2 inches wide
Connects pedals to pumping bellows.
Used as hinges on bellows also-
Sometimes used to connect pedals to bellows. 451319 in the graphic above SH716 $ 2.00 / foot
Reed Organ Pedal Mats-- 6-1/2 inches by 10-1/2 inches-- Rubber-- Pyramid grid DA1055 $ 14.35 per pair
4 Inches by 10 inches Old Part Number as in graphic above 451408 SH607A $ 10.45 per pair

Used Ivories- We have a limited supply of 1 3/4 inch used ivory key top heads for pump organs $ 6.00 ea
Reed Organ Sharps--
Humped Back-- 3-1/2 inches long DA433 $ 4.80 ea.

Pneumatic Cloth Self-Adhesive Hinges- For small pneumatics
1-1/4 inch cloth circles with pressure sensitive label coating. 100 per roll DA685 no longer available
Reed Organ Pedal Return Spring (Coil style)
9 inches long, 8 lbs. Outward pressure DA287 $ 22.65
Reed Organ Punchings- - -3/8" diam., .050" thick, with wire hole; per 100 SH830 $ 6.50
PNEUMATIC, BELLOWS, AND RESERVOIR CLOTH
Used in Reed, Organs
GLUE, COATINGS, AND LUBRICANTS
---
VACUUM PUMPS
Reed Organ Vacuum Pump--
Off / on switch also has volume control knob which electrically
regulates motor box. Installation is very simple.
This pump is aimed at the Reed Organ in that volume is the issue more than
inches of vacuum. Do not use a player pump on a Reed Organ for best results.
A two inch hole is bored in the top of the chest board to the right of the
"paddle wheel" termolo (if you have one. The flange is screwed down with
connecting check valve and suction unit. Can be installed in a short time for
someone with basic mechanical skills. The only dismantling is to take off the
back cover of the organ. A one way valve is included so that the organ can
still be played with the foot pumping pedals.
CAUTION: Two issues have come up recently.
1. This product is a utility item. It is function based, not pretty to look at.
If you need to have your pump to look like it would fit in the dash
of a Ferrari, please do not order this pump from us.
2. Though it is designed to be low noise, it DOES make some noise. This is
caused by the high volume of air being drawn off the organ. Pump organs
have very high air flow due to all the reeds that are open at once. This is
also why a player piano pump is not safe to use on a pump organ. A player
piano pump has much higher vacuum and low flow, so player pumps are
often a bit quieter. If you use a player pump on a reed organ it will destroy
the treble reeds by over driving them. You will have the best results by
locating this pump at a distance from the organ and using a section of
plastic pipe to connect it to the organ. Control wires will also have to be
extended if you do this. Several of our customers drilled a hole in the floor
and located the pump in the basement. I have done this myself with good
results.
If this all frightens you, please do NOT buy this pump. There is the usual 20%
restocking fee if you return the pump, and possibly NO refund if we cannot
resell the pump in "as new" condition.
Caveat Emptor !!
Having said this, we have had almost no returns on this pump. Innovative and
thoughtful customers find a way to use it and are delighted. We have had many
kudos on this pump.
Measures 5 3/4 inches by 5 3/4 inches by 9 1/2 inches DA448 $ 323.00
ORGAVAC Reed Organ Vacuum Pumps

Model ARO-6
(1/8th hp) 2 ½" suction for
up to 6 sets of reeds
23 lbs - 11" x 11" by 12" high
Shipping weight- 23 lb.



Price $ 354 plus shipping


Model ARO-16
(1/2 hp) 4 ½" suction for
up to 16 sets of reeds
44 lbs - 13" x 14" x 15 ½" long
Shipping weight- 44 lb.

Price $549 plus shipping

Lee Silent Reed Organ Suction Units

Our Lee Units completely eliminate tiresome foot pumping while at the same time improving the performance of almost any reed organ. These compact units are easily installed and need not alter the organ's appearance. Sizes are available to efficiently power the small parlor organs and melodeons as well as the larger church types (Estey) with sub bass, tremolo and couplers.

They have sturdy reliable motors with specially designed aluminum fan assemblies made for these units. They are precision balanced and shock-mounted in insulated enclosures for vibration-free operation. Flanges, flexible duct, hardware and under-keyboard switch (wired into the unit) are all supplied, together with detailed instructions for installation. Everything you need is included.

International shipments (Except Canada)--
Unit is wired for 220-240 volts-- Price: $ 574
You must attach your mains plug to the two wire AC power cord
Payment only by PayPal or bank check in US$
Add 3% for transaction fees
Only Unit ARO-16 is exported.
ARO-6 is 110 volts 60 cycles only.
ARO-16 is 110 or 240 volts, 50 / 60 cycles if rewired.


A1127 Arndt Delron Flanges
Our flanges are available in four sizes 4", 3", 2 ½" for use with flexible duct and 1 ¼" for vacuum hose. All are supplied with gaskets. A reasonably-priced alternative to aluminum flanges In stock for same day shipment. SEND MAIL for prices

SHIPPING:
Expect high shipping costs overseas on ARO-16 units.

Examples:
USA-- Up to $ 40 UPS Ground- "Lower 48"
Europe and the UK-- $ 180 Air Delivery-- $ 66 Surface Mail

We will NOT refund your customs cost on any pump
you have to return for any reason, even if it is defective.
Defective products must be returned at your expense,
and we will repair them and return them at our expense.
Damaged products will not be repaired or refunded.
Do not order please if you are not sure of these conditions.

Because of the possibility of abuse to these units,
they are warranteed ONLY to function properly on delivery.
Once in use, all warrantees cease.
BOOKS ON REED ORGAN RESTORATION
DA/B-85-- RESTORING AND COLLECTING ANTIQUE REED ORGANS $ 38.50
By HORTON PRESLEY
A 310 page paperback that is a step-by-step guide to finding, repairing,
tuning, and restoring these priceless antiques. The most authoritative,
and easy to understand, book on the subject that is in print today.
SH1679 -- PIANO TUNING
By J. CREE FISCHER
Paperback 5-1/4" x 8", 201 pages 17 lessons starting with notes on the
general construction of the piano, regulating and repairing, setting the
temperament, the study and practice of piano tuning, and also tuning
and repairing reed organs. Finally a lesson on Professional Hints. $ 17.50
SH1646-- THE REED ORGAN
A 22 page booklet packed with information on the care of the reed organ.
Easy remedies are suggested for common reed organ problems. The technician or
owner can make good use of the interesting description of the various stops,
and how to use them for the best musical effects.
Originally published by Sears Roebuck & Co. in 1910. Not Available
SH1673-- THE REED ORGAN: ITS DESIGN AND CONSTRUCTION
By H. F. Milne
This 168 page soft-bound book details a vast amount of information of how reed
organs are constructed. It is a practical guide for craftsmen with instructions for
making new reed organs and chapters included on tuning and voicing. $ 32.00
SVN10GL-- Gellerman's International Reed Organ Atlas
Robert F. Gellerman- 320 pages- Paperback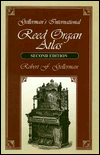 This second edition of Gellerman's classic reference work is
a must for collectors and aficionados of reed organs. Its aim is
to present a complete listing and brief history of every
manufacturer of reed organs in the world as an aid to the collector.
In the 13 years since publication of the first edition, hundreds of
new names and historical facts have come to light and are
included in this revised edition. 89 illustrations. 104 photos. $ 27.00

SVN12GL-- The American Reed Organ and Harmonium
Robert F. Gellerman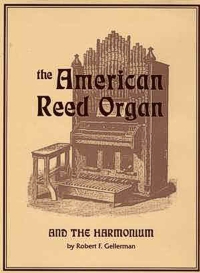 When The American Reed Organ was published in 1973,
the instrument was an almost forgotten artifact of the
nineteenth century. While many reed organs had survived,
most had been stored away and allowed to deteriorate and
gather dust. The book helped revive interest in these
instruments and led to the formation of The Reed Organ
Society which provided focus for news and research on the
subject. As interest continued to grow, a number of other
books appeared, but The American Reed Organ remained
the standard work on the subject for many years. Book The
American Reed Organ and the Harmonium is more than just
a new edition of its predecessor. It has been completely
rewritten and expanded to reflect continuing research on
the subject. The extensive history traces the free reed back
from its origins in China about 2000 BC through its development and perfection as a popular
instrument for homes, churches, and music halls, until it reached its peak in the 1890s.
The amazing photographs chosen to illustrate the text will show how important a part
of everyday life these organs had become. There are photos of organs being
transported across the prairies in wagons and pictures of the "chaplain's organs" that
went to both World Wars with our servicemen. There is one historical photo from the
official US Navy files which shows a chaplain's organ being used in a religious service
on the bombed-out hangar deck of the USS Franklin in 1945. A large sampling of the
advertising and catalog offerings by the major organ manufacturers of the time, as
well as post cards, cartoons, and holiday greetings featuring reed organs will add to
your appreciation of these fine instruments.
Covers the history, construction, manufacturing, tuning, restoration, and music of
these classic American and European parlor instruments. -- Paperback $ 31.00



---

Reed Organs Restored by our Customer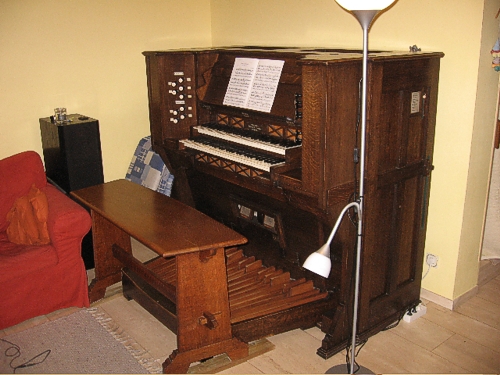 Restored by Thomas Becher
of Saarbruecken, Germany
It appears that Thomas had to make
a bench and foot pedals for the organ.
---
Estey Hybrid
Here is an amazing and impressive
conversion of an old Estey combo.

"You might be interested in seeing
my Estey organ which I have put
tegether. 3 manuals of Eastey and
2 of electronic."

Colin Adamson

Estey three manual and
Yamaha PSR 8000
Yamaha PSR 500 MIDI

ON/OFF THUMB PISTON Pivot points Swell
to Great MECHANICAL COUPLER MECHANISM.
3 TOE PISTONS AIR TRUNKING SNARE DRUM
& CYMBAL & Sustain TO EXT.SOURCE PEDAL WORK COUPLED
TO 1ST AND 2ND MANUALS 3 SWELL PEDALS AND MIDI'D
TO 5TH MANUAL FOR 1, 2, AND 5.
Comment by Steve Van Nattan
So, it can be done, and it looks very classy.
Let's see another one soon from YOU.
---
ALSO, SEE--
We buy old electric organ vacuum tubes SEND MAIL with number
on the side of your tubes. We will have them tested and let you know
which ones we will buy after you mail them to us. They must test
at least 85% good for us to buy them.
---
VISIT OUR PAGES ON PLAYER REPAIR AND ADJUSTMENT:
WE OFFER A PLAYER PIANO WEB RING FOR YOU TO SURF.
YOU WILL FIND SOME EXCEPTIONAL PEOPLE TO SERVE YOU.
See the bottom of the page.

OUR MENU OF PLAYER PIANO INSTRUCTION

68. Varmints, Lubrication of Player Pianos

69. Adjustment of Player Pianos

70. Bellows repair in Player Pianos


ORDER BY PHONE WITH CREDIT CARD
CALL TOLL FREE: (800) 338-8863
If there is no answer, please leave a message- we do answer our voicemail

OR:
Go to Mail Order Form for printing:
Online help available