FIX IT,
RESTORE IT,
AND TUNE IT
YOURSELF !!

Also called
"Table of Contents"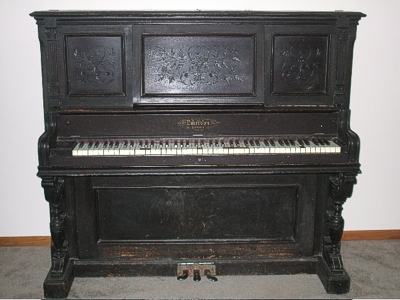 You are looking at an old Emerson from the
1890s. This piano looks terrible, but it appears
to have no serious damage to the cabinet, and
no veneer is broken. If the tuning pins are tight
enough to hold a tuning, it is a great candidate
for restoration. A natural wood finish would
look great. Our customers are doing these
pianos on a regular basis.
We offer instruction in restoration and repair of
old pianos and new. Our Catalog contains every-
thing you will need to help and old lady like this
make sweet music.
"Beethoven wrote in three flats a lot.
That's because he moved twice."
Victor Borge

From the book Copyrighted by Steve Van Nattan
© Copyrighted by Stephen Van Nattan- 1996
HTML of site © Copyrighted by Stephen Van Nattan- 2001
All theft will be subject to prosecution
Some copying of my material will be allowed.. IF YOU...
Ask before you copy anything

SEARCH THE WHOLE SITE



| | | |
| --- | --- | --- |
| Isaiah 38:20 The LORD was ready to save me: therefore we will sing my songs to the stringed instruments all the days of our life in the house of the LORD. | Habakkuk 3:19 The LORD God is my strength, and he will make my feet like hinds' feet, and he will make me to walk upon mine high places. To the chief singer on my stringed instruments. | I think it is interesting that the prophet Habakkuk invented his own stringed instruments. The piano is merely a very large harp. Have any of you readers invented your own stringed instruments? |
INTRODUCTION
This is the Table of Contents to a book for Do-it-Yourselfers. It is uncluttered by splash and frills so that you can concentrate on getting the job done. The book tells you in plain language how to care for and repair your piano. This Table of Contents will lead you through the book. Also, in our Online Catalog you can order parts and tools to use in repairing your piano.
You will notice some of the buttons below are indented. That means they are sub-headers under a major Chapter or topic.
I am available to you by E-Mail to answer questions-- Dumb questions - Smart questions
"HELP" questions--
And, I try to get back to you tomorrow! And it's FREE!
We also give you the catalog free and up front-- Online.
ENJOY.

You can turn off
the music here.

MUSIC FOR BROWSING



When you see the above icon,
you may bring up the music browsing page.

ORDER BY PHONE WITH A CREDIT CARD

Toll Free Number for ordering: 1 (800) 338-8863
OR:
Go to Mail Order Form for printing:
OR:
Pay by PayPal
Email address to use to send payment:
keith@stevespianoservice.com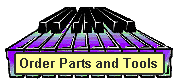 Ordering Customers CALL: (800) 338-8863
This dedicated number is for questions if you intend to order.


For Technical support CALL: (715) 803-4556
If you bought your parts elsewhere, kindly ask that seller for technical support

UP FRONT
WARNING: Please read this.


TABLE OF CONTENTS:
For Online and CD Users
All of the following is on The CD, and much more!
The Catalog and Repair Contents are now much more inter-linked.
PROFESSIONAL PIANO TUNING INSTRUCTIONS
Only on the CD
NEW SECTION:
PIANO AND ORGAN MOVING INSTRUCTIONS


Chapter One- GETTING TO KNOW YOUR PIANO
Introduction:
What are my qualifications?
Music
Entropy
Requirements

Chapter Two- THE PIE-ANNA
Introduction to Piano Care
The Piano as Furniture
Grands
Spinets
Uprights
You got ta get da polish
Keys
Keep keys white by controlling light

Chapter Three- DO I HAVE A GOOD PIANO?
What is a good piano
Which is the best Piano?

Chapter Four- MAINTAINING YOUR PIANO YOURSELF
1. Tuning Your Piano
2. How often should a piano be tuned?
3. When should a piano be tuned?
4. Hints to help make the tuning last through the year
5. Courtesy to your tuner
6. Adjusting the Action
7. Moving a Piano
8. Know Thy Tuner
9. Checking the Tuning
10. Free Words of Wisdom Department

Chapter Five- GETTING TO WORK- OPENING YOUR PIANO
Opening Your Piano-- Uprights
Removing the Upright Action
Removing a Spinet "Drop Action"
Want to remove the keys?
The Grand Opening
Removing the key cover
"Front Board" (Unofficial name) Or, Key Slip
Removing the Grand action
Re-installing the action

Chapter Six- TROUBLE SHOOTING YOUR PIANO


A. A key sticks down




B. Two keys stick together as they go up and down




C. Key lever stays Down Or, Key broke




D. Dead Hammer OR, Stalled in A Including Bridle Strap Replacement




E. Jack the Slipper OR, Hit and miss key strokes,



and double blows of the hammers




F. Limber Neck OR, Floppy Hammers




G. A Hammer broke off




H. Straighten a crooked hammer




I. Loose Tuning Pins




J. Squeak, Thump, Rattle, and Twang

Chapter Seven- COMMON REPAIRS A LA CARTE

The following are sub-topics under Chapter Seven:


1. Aligning grand piano hammers


4. Bench- Upholstering as an option


5. Board just under the keys in front


10. Casters- Replacing and servicing


10.5 Center Pin Repair and Installation



And Flange Bushing Replacement


11. Clatter and buzz prevention


12. Cleaning the grand sound board


13. Cleaning the Upright Piano


15. Decal Application



(See also: Name Decal Application)


16. Desk repair- Spinet, Upright, and Grand


17. Dismantling or Destruction of a piano


Hammers-



24. Bending crooked hammers on uprights



26. Repairing Hammers using a Brass Sleeve



27. Hammer- Broken- Replacing




Includes instruction on reattaching the




felt head of the hammer to the wood molding



29. Hammers- Voicing and Buffing


31. Harp- Cracked, but not broken


34. Key dip adjustment- too much or too little


35. Key leveling and Key Lever Restoration Kit Instructions


36. Key tops- White and Black Replacement




and Key Top Restoration Kit Instructions


38. Key tops- ivory replacement


40. Key won't depress on Grand


42. Lost motion- Adjusting to eliminate it


44. Moth, Mildew, and Fire Damage and Smoke Odor


47. Pedal- Grand- Key bed fails to return when soft pedal pushed


48. Piano tuner- How do I become one?


50. Pin Block Separating from frame repair


50.5 Pin Block Replacement--



This is a link to a Web Site on pin block restoration


52.5 Restringing a piano


54. School Pianos- Care and Defense


56. Sound Board- Cleaning in Grand


57. Sound board- Repairing cracks and Improvised Crown Restore


64. Wire- Replacement of a broken one


65. Wires- Turning to brighten tone


66. Wood frame loose on bottom

PLAYER PIANOS


68. Varmints, Lubrication of Player Pianos


69. Adjustment of Player Pianos


70. Bellows repair in Player Pianos


71. Get a stalled Player going again


72. Square (rectangular) grands

FREQUENTLY ASKED QUESTION WITH MY E-MAILED ANSWERS


73. FAQ Page from E-Mailed Questions and Answers

PIANO MOVING, INSTRUCTIONS, AND SUPPLIES


74. NEW SECTION: PIANO AND ORGAN MOVING INSTRUCTIONS


TRADITIONAL PIANO MOVING SKIDS, STRAPS, AND SUPPLIES


MOVING PADS, STRAPS, SHRINK WRAP, AND CARRYING SUPPLIES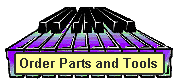 Ordering Parts and Tools
Piano Parts and Tools Catalog
Schaff Tuning Levers -- Tuning Meters

READ BOOKS POSTED HERE FREE

These books are a start. We hope to have more music and piano servicing books soon.
Also, these books are out of copyright, so you may copy them. Please leave the credit
to Gutenburg Project on the front page where it is found.

PIANO MASTERY
Talks with Master Pianists and Teachers
By Harriette Brower

PIANO TUNING
A Simple and Accurate Method for Amateurs
J. CREE FISCHER

PIANO AND SONG
How to Teach, How to Learn
FRIEDRICH WIECK

THE PIANOFORTE SONATA
Its Origin and Development
J.S. SHEDLOCK
(Load this on your laptop, and set it on
the piano desk, and learn to master the sonata)

WE WILL DO THE REPAIR FOR YOU BY MAIL:

Appendix One- Professional Tuning Instruction-- only on the CD


Professional Tuning Instruction now in Printed Format


We now give you Stretch Charts to use with our tuning meters

Appendix Two- Electronic Organs and Desperate Acts

Appendix Three- Pump Organs and Desperate Acts

Updates and Forum Here is our idea exchange, along with your repair reports.

Diagrams of Piano Actions

Bibliography

Index

Epistle to Piano Tuners
LINKS:
Time Line History of the Piano
http://www.concertpitchpiano.com/TimeLine.html

Look at various tasks in restoration of a piano:
http://pianos.hartmanstudios.net/Info/photos.htm

Some shop pictures of piano repair:
http://www.pianoman.bc.ca/shopPictures.htm

Other tasks in piano work:
http://rcraftsmen.com/moxie/pianos/process/step10.shtml

Piano Technician's Guild forum-- Highly valuable:
http://www.ptg.org/pipermail/pianotech/

The Steinway Story in brief-- Interesting:
http://www.sherwinbeach.com/lenehan/K2571.htm

If you feel lost or at a dead end and would prefer to have help
from a man in the trade-- CLICK HERE

Load Robert Scott's TuneLab 97- 2.0-- Shareware-- $34
This software only available on the CD we sell.
This is the best deal in professional tuning PC software.
The complete program is here.



STORE HOURS
9 TO 6 CDT
GMT minus 5 hours
Monday thru Friday
Do not call on
Sat. Sun. please


ORDER PIANO PARTS BY PHONE WITH A CREDIT CARD
CALL TOLL FREE: (800) 338-8863
If there is no answer, please leave a message- we do answer our voicemail
OR:
Go to Mail Order Form for printing:
OR:
Pay by PayPal
Email address to use to send payment:
keith@stevespianoservice.com
Contact the Editor / Author by E-Mail.


To the jerk de-jour in the purple Camero: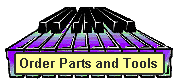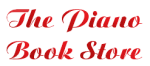 CLICK AT LEFT TO ENTER OUR BOOK STORE
We now offer you a bookstore of music from Bach to Piano to Zither.
Do drop in. When you buy from the Book Store, you are buying from
Amazon.com, and we get a commission. You pay no more than if you
ordered directly from Amazon.com, and you get very fast service.