STORE HOURS
9 TO 6 CDT
GMT minus 5 hours
Monday thru Friday
Do not call on
Sat. Sun. please


PIANO COVERS
We offer Four Cover Applications:
GRAND PIANO AND HARPSICHORD COVERS
Also, Security Covers

COVER ACCESSORIES:
Piano Bench Covers, Grand Leg Moving Wraps,
String Dust and Muting Covers,
Furniture Cabinet and Speaker Covers

SOUND MUTING AND CONTROL
For people in apartments or who like to play two part inventions at midnight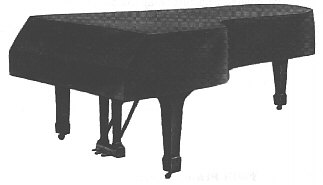 Close your cover after striking!
A piano cover will keep the dust from
spoiling action freedom, and it will keep
a grand piano sound board looking fresh.
A cover will help stabilize humidity.
It will also discourage your brain challenged
uncle from flopping down on the bench
and playing Like Young for an hour.

A piano cover is very helpful for five reasons:
1. It keeps kids and itinerate jerks from pounding on the piano.
2. It keeps dirt out of the piano.
3. It prevents random nicks and scratches.
4. A piano cover keeps a more controlled environment for the piano during weather changes.
5. A piano cover tells your piano tuner that you take care of your instrument.

Hi Steve,

There is a 6th good reason for a grand piano cover: it provides a better launch pad for the cats.
The owners of any skid-marked-slide-stopping-gouged lids will know what I am talking about.
Love your site and refer to it often.

Thank you so much for this treasure. Jocelyn

If you are buying more than one item on this page,
or a trolley or bench with something here,
we will talk about a discount.
There are SIX Cover Options:
Black or Brown Mackintosh
This is cotton drill cloth bonded with a rubber compound to a soft flannel.
Very tough and durable, and well suited for schools, churches, and studios.
This material repels water to a limited degree. This cover is probably the
least likely to snag when kitty tries to jump up on the piano.

Heavy Quilted Mackintosh
This is a very sturdy padded cover which is much more attractive than a standard moving cover.
It is available in black or brown and is a good choice for schools and public venues
where durability and padded protection are important.

Black or Brown Vinyl
Vinyl imitation leather outside, with flannel lining inside. Though this is the
lowest cost cover, it is the most water proof. It is ideal for restaurants and
situations where people are likely to set a drink down on the top of the piano.
Color Choices: Black, Brown
Special Colors: Sand (Beige), Burgundy, and White ( Add $20 )

Black Nylon Quilt-- Standard
High quality satin nylon outside with poly-cotton combination padding and
inside lining. This cover has the same sheen and look as the Premium cover,
but the nylon material is slightly lighter, and the cover will soak up water spills.
If there is a chance of liquid spills, do NOT order this cover.

Black Nylon Quilt-- Premium
Premium grade black satin look of top grade nylon outside, quilted stitching
throughout, with soft cotton flannel and padding inside. This one is the best at
preventing scratching and gouging. If water spills are an issue, this nylon material
sheds water very well, though standing water may eventually soak through.
The quilted cover is the most luxurious looking cover for the home or performance
area. This cover looks the great under stage lighting.
Special Color: Brown ( Add $20 to the prices shown )
Heavy Nylon Quilted
This is a very nice looking padded cover with a sheen, and it is completely waterproof.
As with all our covers, it has a soft inner lining.

Swatches
Because it is so hard to get color and texture right in a photo on a web site like this, we
are offering to send swatches of the above covers if that will help you make a decision
which cover you would like. We will not send swatches of all the covers to anyone. This
is unreasonable. Read the description, and decide on two or three choices, then call us,
and we will answer any further questions and then send the swatches. CALL 800-338-8863

SHIPPING:
USA

USA_ (Heavier and/or larger covers may be more)
NYC, New England, NJ, Philly, DC, VA- $ 12.00 - $15.00

Other points East of the Mississippi River- $ 15.00 - $20.00

West of the Mississippi- $ 20.00 - $25.00

Covers shipped to Alaska or Hawaii must go US mail.
Inquire when you call to order.

Canada

Canadian orders shipped US Post Office Priority Mail only.
Inquire when you call to order.

Overseas Orders

Please call to inquire about International shipping and return policies.
Returns:
In the event that you do not want to keep the cover, or if the cover is defective, you MUST call
us for instructions for returning the cover. This is because our cover maker does not have the
records of your transaction with us. If you return a cover which has no defects, we will refund
your payment less 20% restocking fee. The cover will be returned to our cover maker, NOT to us,
so you MUST call for instructions how to return the cover. CALL: (800) 338-8863

All returns MUST be by US Post Office, Parcel Post, especially from Alaska and Hawaii. If you
return the cover by any other carrier, we pay ONLY the US Post Office postage charge. If our cover
maker tells us the cover was made properly, in spite of your claims to the contrary, we will NOT
pay the return postage. We pay all charges both ways and full cost of the cover for defective covers.
Damaged covers which are returned will receive NO refunds at all. We take a totally fiduciary role
in all things and will not side with either our supplier or the customer dishonestly.

Thanks
Other Accessories:
---
CALL US TOLL FREE AND ORDER WITH A
CREDIT CARD AT:
(800) 338-8863





Contact us by E-Mail if you don't understand.
Please include the word "piano" in the subject line
ORDER BY PHONE WITH CREDIT CARD
CALL TOLL FREE: (800) 338-8863
If there is no answer, please leave a message- we do answer our voicemail


OR:
Go to Mail Order Form for printing

SEARCH THE WHOLE SITE