STORE HOURS
9 TO 6 CDT
GMT minus 5 hours
Monday thru Friday
(800) 338-8863
1 (906) 864-1437

PIANO CABINET HARDWARE
Upright and Grand Piano


Ordering Instruction at the Bottom of This Page


SEARCH THE WHOLE SITE
ORDERING INFORMATION:
MINIMUM ORDER:
Minimum Order $20
SHIPPING POLICY:
Priority Mail shipping for most items. UPS by request.
You MUST browse the Catalog area, and try to learn what you want. We no longer search our catalog for you.
Have this information ready:
1. Description of parts
2. Part Numbers
3. Prices
4. Dimensions where needed
BEFORE you call us please.
Make sure you are in the catalog area for your kind of piano--
Such as Grand Pianos,
Full Uprights, Spinets, etc.
If you are confused, call us for assistance.
If we do not answer the phone, we are probably here-- Just leave a message- we will return your call (it may not be the same day).
:-)
UPRIGHT PIANO HARDWARE IS ON THIS PAGE
Some parts here are used in Grand Pianos also.
Hinges and action mounting hardware for upright pianos
are found under other links listed here.
ELSEWHERE IN THE CATALOG:
SMALL CABINET PARTS-- RUBBER, BRASS, WOOD, AND METAL
GRAND AND UPRIGHT PEDAL HARDWARE
PEDAL HARDWARE-- Including springs for pedal trap mechanisms
Grand Piano, Pedals, Lyres, and Legs and Lyre Hardware


CABINET PARTS
Learn how to use this hardware to repair your desk.
Part Description Part Number Price

(*) These items are best found at
Ace or True Value Hardware Stores
Lid Prop-- Lifts lid on uprights to
allow more sound from the piano SH560 $ 2.00

Front Frame Catchers-
Pairs- left and right
Replaces common hooks which
hold the desk on the cabinet SH594 $ 6.80
Fallboard Rod Clamp-
Holds lever rod which acts a a hinge
on many spinets and some uprights SS500 $2.00 ea
Action Bracket Bolts- 3/8" diameter
Bolts only-- Knobs not included

Overall Length

Neck Length

New Part
Number

Price

4"
4 1/2"
5"
Knob Only


3/4"
3/4"
3/4"
3/4"


SH557-4
SH557-4-1/2
SH557-5
SH557-1/2


$ 4.00 each
$ 4.00 each
$ 4.00 each
$ 1.50 each

Round Prop Nuts-
For tight spaces where screwdriver removal is desired-- Found on some spinets
Also found on grands on rail above hammers and elsewhere
SH925 $ 2.00 each
Grand Lid Prop Hinge-
Solid Brass, Satin finish- Anchors bottom end of lid prop- 301909 in the graphic
but more massive than the one illustrated
PKRH-5803 $ 31.80 each

HINGES
Part Description Part Number Price
The following items are
not in order as shown
in the graphic.

Upright Piano Locks- Set
Includes solid brass lock and
selvage, brass striker plate,
key, and escutcheon
Satin Brass SH553B $ 14.95
Escutcheon only-
Brass SH555B $ 8.25

Striker Plate-
Brass SH556B $ 3.75
Nickel SH556N $ 4.50

Upright Lock Keys-
Triangular SH554 $ 2.50

Trap Pins- 3 inches long by .155 thick
These pins are used to hold wood
and metal pedal rods in their mounting
points- 301074 in graphic SH3568 $ 5.00 each
Music Desk Hinges

| | | | |
| --- | --- | --- | --- |
| Height | Thickness | Old Part Number - New | Price |
| 5/8" | 1/4" | SH1064 | $ 9.50 a pair |
Invisible Hinges- (We have them visible in the graphic above just for you :-)
Used for fallboards (key covers) and key slips. Used on almost all old player pianos.
Furnished with screws

Width

Part Number

Price

Nickel, 1" long by 3/8" wide
Satin Brass- 1" long by 3/8" wide
Nickel, 1 3/4" long by 3/8" wide
Satin Brass, 1 3/4" long by 3/8" wide
Satin Brass, 1 1/2" long by 1/2" wide

SH5100N
SH5100B
SH5101N
SH5101B
SH5102

$ 18.50
$ 18.50
$ 19.00
$ 24.50
$ 21.75
Knife Hinges- Nickel Plated-
Quantity-- Pair for left and right
Without Bracket SH566 $ 21.75 / pair
With Bracket attached No Longer Available
Piano Butt Hinge- Solid Brass- Used for Fallboards (key covers) and desks
Quantity--
1 3/4" long by 1" wide by .050 thick.
Satin Brass Finished SH567B $ 12.50 each
Nickel Finished SH567N $ 20.00 each
Mason and Hamlin Style Desk Hinge

Solid Brass satin finish- 1-1/4" wide- 5 inches long SH1095 $25.75 each
Solid Brass Continuous Hinges-- 60" long
Screws are not supplied. This is because the original screws would have come
through the wood of the lid of the piano so that they almost reached the other
side of the wood. If we sent screws that were slightly too long for your piano,
they would come through the top of the piano- Horrible thought. So, YOU
must take your old screws to a hardware store, and look for screws exactly
like yours. Do not get them slightly longer to pick up more wood. Instead,
fill the screw hole half full of tooth pick pieces and carpenter's glue to tighten
loose screws.
1-1/16th inch wide when opened. .040 gage. Holes drilled and countersunk.
Satin Brass Finish SH565B $ 66.25
Nickel Plated SH565N $ 125.00
Steinway Style Sectional Hinge
An exact replacement. Consists of 11 sections measuring 5 inches length
and one section measuring 4 inches held in place by continuous hinge pin
that is 60-5/8 inches long. Opens to 1-1/8 inch.
Brass SH565AB $ 250.00
Nickel SH565AN $ 357.00
HINGES: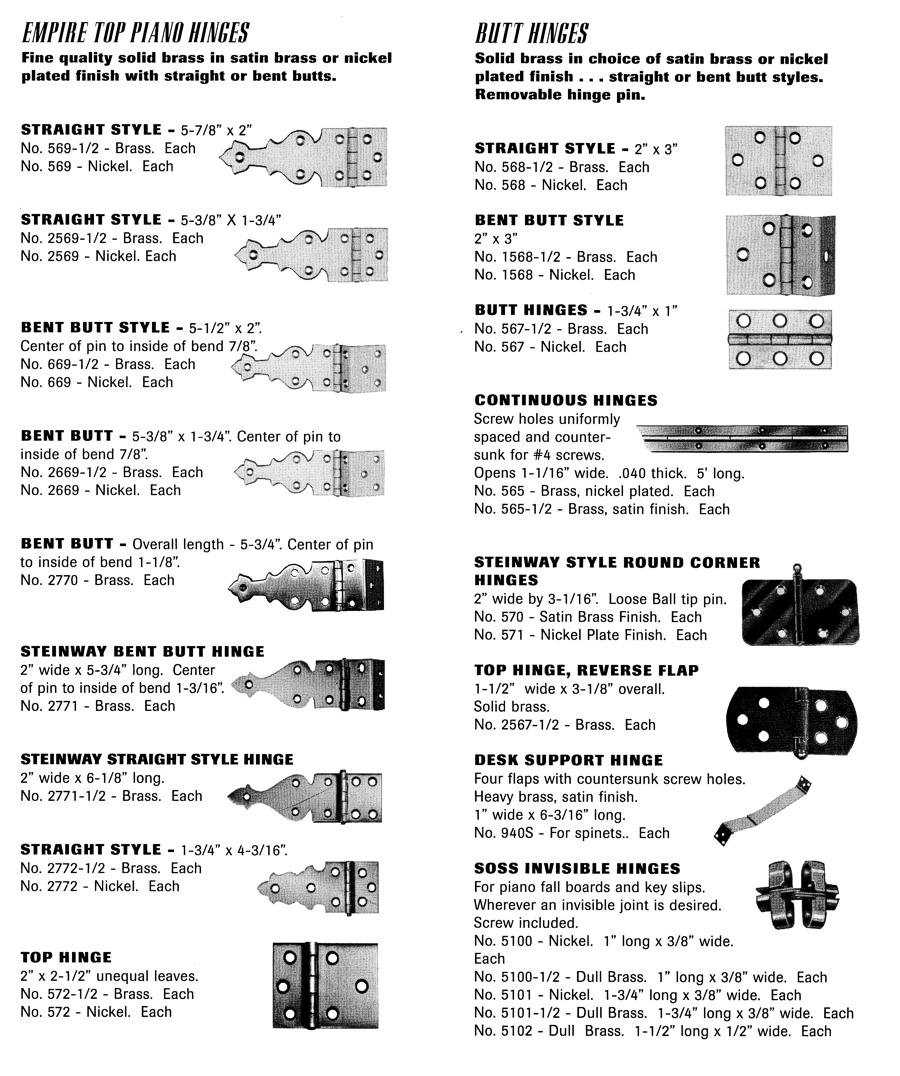 Old and New Part Numbers and Prices of the above Piano Hinges
Minimum order applies.
Single hinges not available without other items being ordered.
You must order using the New Part Number


Hinge Name or Description

Old Part Number

New Part Number

Price

Streight Style

569-1/2

569B

$ 42.50 ea.

569

569N

NA

Streight Style

2569-1/2

2569B

$ 34.25 ea.

2569

2569N

$ 56.75 ea.

Bent Butt Style

669-1/2

669B

$ 42.50 ea.

669

669N

NA

Bent Butt Style

2669-1/2

2669B

$ 34.00 ea.

2669

2669N

NA

Steinway Straight Style
Hinge (Model D)

2771-1/2

2771-1/2B (Brass)

$ 63.25 ea.

2771-1/2

2771-1/2N (Nickel)

$ 73.50 ea.

Steinway Bent Butt
Hinge (Model M & L)

2771

2771B (Brass)

$ 44.50 ea.

2771

2771N (Nickel)

$ 60.50 ea.

Steinway Bent Butt
Hinge (Model S)

Similar to 2771; center of pin to inside bend 1 3/32"

2773B (Brass)

$ 44.00 ea.

2773N (Nickel)

$ 60.50 ea.

Steinway Bent Butt
Hinge (Model B)

Similar to 2771; center of pin to inside bend 1 3/8"

2774B (Brass)

$ 52.50 ea.

2774N (Nickel)

$ 61.75 ea.

Straight Style

2772 & 2772-1/2

Not Available

---

Bent Butt Style
Overall length- 5-3/4"
Center pin to inside of
bend 1-1/8"

2770

2770B
Brass only

$ 47.75 ea.

Top Hinge

570

570B

23.75 ea.

571

571N

$ 32.25 ea.

Top Hinge

568-1/2

568B

$ 22.50 ea.

568

568N

$ 27.50 ea.

Bent Butt Top Hinge

1568-11/2

1568B

$ 22.50 ea.

1568

1568N

$ 28.7 ea.

Butt Hinge

567-1/2

567B

$ 12.50 ea.

567

567N

$ 20.00 ea.
Solid Brass Hinge Pins-
How will you know what size to order if you lost all your pins? Suggestion: Find a friend who
has a detailed set of drill bits. Slip drills into the hole in your hinge until one is good and snug.
Next, mic the drill bit to find the thousands. For that trick, you owe me a cup of coffee :-)


Length

Diameter

Finish

Part Number

Price

2 inch
2 inch
2 inch
1 3/4 inch
1 3/4 inch
1 1/2 inch
1 1/2 inch

.150
.150
.140
.150
.150
.117
.117

Brass
Nickel
Brass
Brass
Nickel
Brass
Nickel

SH3569A
SH3569B
SH3569H
SH3569C
SH3569D
SH3569E
SH3569F

$ 5.00 each
$ 5.00 each
$ 5.00 each
$ 5.00 each
$ 5.00 each
$ 5.00 each
$ 5.00 each





ORDER BY PHONE WITH CREDIT CARD
CALL TOLL FREE: (800) 338-8863
If there is no answer, please leave a message- we do answer our voicemail

OR:
Go to Mail Order Form for printing: