STORE HOURS
9 TO 6 CDT
GMT minus 5 hours
Monday thru Friday
(800) 338-8863
1 (906) 864-1437

ORDERING INFORMATION:
MINIMUM ORDER:
Minimum Order $20
SHIPPING POLICY:
Priority Mail shipping for most items. UPS by request.
You MUST browse the Catalog area, and try to learn what you want. We no longer search our catalog for you.
Have this information ready:
1. Description of parts
2. Part Numbers
3. Prices
4. Dimensions where needed
BEFORE you call us please.
Make sure you are in the catalog area for your kind of piano--
Such as Grand Pianos,
Full Uprights, Spinets, etc.
If you are confused, call us for assistance.
If we do not answer the phone, we are probably here-- Just leave a message- we will return your call (it may not be the same day).
:-)
PIANO DESKS
And Lid Props
Piano desks are very vulnerable since the are often the most fragile part of the piano, and, to make things worse, they get loaded down too heavy with books. Spinet and console desks are mounted with two small hinges at the base of the desk. This plan is followed by 90% of piano makers, and it is insane. Grand desks are made to hang all the way across the piano on two small rails. The desk itself often comes in three pieces which some genius thought would carry the weight. So, here are our desk offerings in case you or the moving man busted yours.
SEARCH THE WHOLE SITE
Return Policy on Wood and Furniture Products
When you receive a desk or other wood part which must be stained and finished,
EXAMINE IT BEFORE YOU PROCEED.
If there is any flaw which you cannot deal with, it must be returned.
If you alter the product, or if you stain it, we cannot return your payment.
If you find a flaw after staining or fitting the product, WE WILL NOT REFUND YOUR MONEY.
CAVEAT EMPTOR
Also, you must call us at (800) 338-8863 for instructions to return the product.
If you return it to us, we will deduct shipping costs to return it to our supplier.
It must be returned to our supplier.
If you send it back without notifying us and following instructions, you may not
receive a refund if our suppler does not know you are our customer.
Spinet, Console, and Studio Desk KIT
(May fit Grand Pianos in need of the hinged book rest)
These desks are unfinished, but they are fine sanded maple veneer on both sides.
Ends are rough sanded. 1/2" thick. End hinges are down the page if you need
new ones.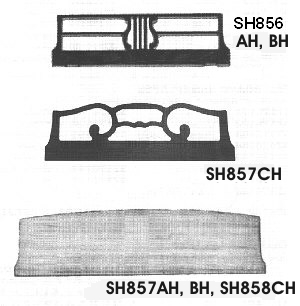 Width Height Veneer Order No. Price
26" 8-1/2" Maple SH856AH $ 53.50
28" 8-1/2" Maple SH856BH $ 65.00

30" 9-1/8" Maple SH857CH $ 70.00
28" 9-1/2" Maple SH857AH $ 43.50
30" 9-1/2" Maple SH857BH $ 43.50
34" 9-1/2" Maple SH858CH $ 43.50
The graphic shows hinge cutouts on the base of the SH856 rests.
This is incorrect. All of these desks can use the SH1064 end hinges.
Brass End Hinges for Spinet and Console Piano Desks
Pair of hinges come with machine screws to mount to level desk area,
but NOT with brass wood screws to mount hinges to desk. See below
If your holes on the level part under the desk are 28 inches apart, or some other
distance not matching our desks, you will want to do the following: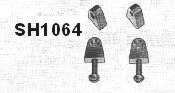 1. Buy the desk next longer than yours, never shorter.
This is so that the old holes are UNDER the new desk and unseen.
2. Drill new holes in line with the old ones, centering the desk precisely.
3. Make sure the new hardware leave about 1/16 inch (total 1/8" overall) on
either end so you can put in a spacer between the wood corner and the
brass hardware.
4. Determine the length brass wood screw you will need to remount the desk.
We do not send this because various lengths may be appropriate.
Find the brass wood screws at ACE Hardware or Lowes.
5. We strongly encourage adding some support behind the desk, out of sight,
and centered to support the new desk so that the book load is shared
between the lower hinges and the support against the lid of the piano. SH1064 $ 9.50 Pair
Desk Butt (Flap) Hinges-- 1-3/4" by 1"
Brass SH567B $ 12.50 each
Nickel SH567N $ 20.00 each

Legs
OLD TIME VICTORIAN ERA DESKS AND LEGS NOW AVAILABLE
These items are aimed at the Victorian period including square grands

We are not able to supply Upright Piano legs at this time.
Grand Piano Desks



Desks are furnished unassembled and unfinished, but they are finely sanded ready for finishing. Authentic styling and easy assembly make these desks a convenient solution to damaged grand desks.
Total width assembled is over size in length. You will have to cut the parallel
horizontal wood rails of the desk to the right length (Do your math carefully)
so that the end pieces are snug on the mounting rail/support attached to the
inside of the cabinet of the piano.
This desk is furnished with necessary hardware for assembly and use (Slide mounted on case not provided)
Hardwood (Solid wood, Must be stained) -- Part Number -- SH1850H Sorry-not available at this time
Grand Lid Props and Hardware
When replacing a prop stick, be sure to put a rubber headed tack on the stick
between the stick and the casting of the harp where it is to rest.

Grand Prop Stick-- Steinway style-- With short stick inset
31" long, Plain hardwood unfinished--
Old Part Number- SH851 $ 75.50


Grand Prop-- Stock item without short stick or hinge pin.
Hard maple, finely sanded and ready for finishing.
30" long x 2-1/2 inches wide x 7/8 inches thick-- Each SH847 $ 32.00
22" long x 2 inches wide x 7/8 inches thick-- Each SH848 $ 27.00

One rubber headed tack sent with invoice-- For prop stick only--
This will only be done if you mention it when you order by phone $ 1.00

Grand Prop Mounting Bracket
Polished Brass- Three screw holes- Brass pin to connect prop to bracket
Mounts to the inside of the cabinet rim to hold the butt end
if the lid prop. May not fit exactly in your old screw holes- You will need
to do some retro-fitting PK-RH-5803 $ 32.00

Lid Cups-- Wood, Brass, and Nickel
Piano Legs and Lyres and Hardware
Grand Piano Pedal and Lyre Hardware
General Piano Hardware Menu Page


ORDER BY PHONE WITH CREDIT CARD
CALL: (800) 338-8863
OR:
Go to Mail Order Form for printing:
We now take PayPal payment-- send email first.


Online help available