STORE HOURS
9 TO 6 CDT
GMT minus 5 hours
Monday thru Friday
(800) 338-8863
1-(906) 864-1437

GRAND PIANO HARDWARE


Ordering instructions at the bottom of this page


SEARCH THE WHOLE SITE
ORDERING INFORMATION:
MINIMUM ORDER:
Minimum Order $20
SHIPPING POLICY:
Priority Mail shipping for most items. UPS by request.
You MUST browse the Catalog area, and try to learn what you want. We no longer search our catalog for you.
Have this information ready:
1. Description of parts
2. Part Numbers
3. Prices
4. Dimensions where needed
BEFORE you call us please.
Make sure you are in the catalog area for your kind of piano--
Such as Grand Pianos,
Full Uprights, Spinets, etc.
If you are confused, call us for assistance.
If we do not answer the phone, we are probably here-- Just leave a message- we will return your call (it may not be the same day).
:-)
GRAND PIANO HARDWARE ON THIS PAGE--
Some Upright Part Hinges and action mounting hardware for
upright pianos are found under other links listed on this page.
ELSEWHERE IN THE CATALOG:
PEDAL HARDWARE-- Including springs for pedal trap mechanisms
GRAND PIANO HARDWARE

Part Description Part Number Price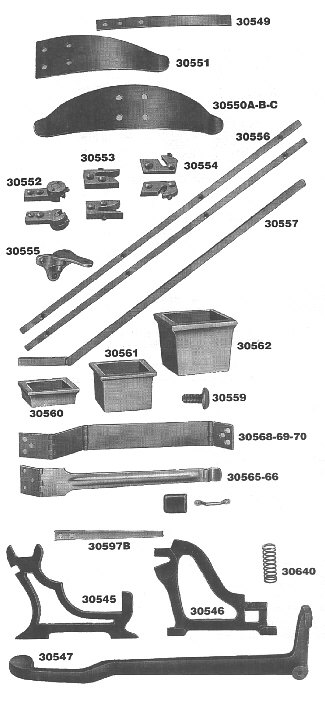 Grand Keyboard Spring-- Key cover
comes to rest on this. Old No. 30549 SH959 $ 27.00
Grand Action Shift Springs-- Returns the
key action frame after using quiet pedal.
Blued Steel- 16 gage steel
Length Width Old No.
8 7/16" 1 3/4 " 30550A SH962 $ 20.00

Grand Fallboard (key lid) Hinges--
The only fallboard hinges we can get are approx 1" square. Call
for price and info.
Grand Desk Brass Slides--
Desk slides on these- Pair
Can be used to replace wooden slides.
14 inch (Old Part #- 30556) SH1072 $ 46.75

Grand lid support (old part # 30557)
Solid brass- Hinged-
Short arm 2", long arm 12"- SH935 $ 62.00
Same as above but nickel SH936 $ 72.00
Grand Leg Ferrules-- These are much more substantial than the ferrules elsewhere on this page.
Solid cast brass-- For nickel plated sockets, order these and send them off to be plated.

Inside Dimension Height Old Part No. Ordering No. Price
1 1/2" 5/8" Graphic No. 30560A SH964A $ 38.25 each
1 3/4" 1 1/2" Graphic No. 30561A SH964B $ 41.75 each
2" 2" Graphic No. 30562A SH964C $ 65.00 each





Grand Desk Rest--
Solid Brass--- 7 1/8 inch from knuckle to end
Complete with staple, rubber cap, and screws.
Satin Brass Finish Old Part Number 30565 SH941 $ 69.50
Polished Nickel Old Part Number 30566 SH942 $ 79.50
Rubber caps only (Cover parts) Old Part Number 30567A SH941C $ 2.00
Desk Support Hinge-- Solid brass four flap hinge. In graphic, see 30568-69-70
For desk that fold either forward of backward. Furnished with screws.
1 inch wide by 9 inch long- Satin Finish SH940N $ 93.25

Desk Butt (Flap) Hinges-- 1-3/4" by 1"
Brass SH567B $ 12.50 each
Nickel SH567N $ 20.00 each
Steinway Sostenuto Pedal Spring SH961 $ 31.75
Part Description Part Number Price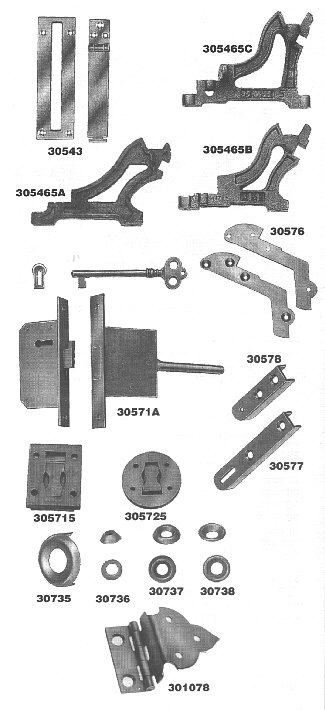 Grand Action Brackets-- Cast iron with screws-- Needed if one breaks
Be sure the bracket in the picture is the same as yours.
If the new brackets are shorter than yours, add shims of maple wood
under the feet to lift the bracket into proper relationship with the rest of
the action. Also, the hammer rail may need to be remade or shimmed
to level the hammers with the action. Regulation will add the final touch.
Aeolian-American No. 108 Type
See 30546 in the above graphic SH1076 $ 18.55 ea
Full set of three or four of either style $ 16.00 ea

Grand Piano Lock--
Complete with plunger, escutcheon,
(That's the little key lock diddly) and key.
Satin brass finish--
Selvage plate 5/8" by 4 1/16"
Square ends to plate.
Key alone fits many grand locks
Grand lock with SQUARE end plates SH965 No longer available
Escutcheon only SH965E $ 3.00
Key only for grand locks SH965K $ 14.00

Mason and Hamlin Style Desk Hinge
See Part Number 301078 in the graphic SH1095 $ 27.00 each
Grand piano fall board lock key-- Steinway
Solid brass with lyre design for Steinway grands before 1971 SH965KS No longer available
Grand Piano Lock Escutcheon--Steinway, Mason & Hamlin; Brass SH965ES $29.25
Grand Leg Plates-- Cast iron, Set of 3 units (legs) -- Two interlocking plates to each unit.
Round-- 4 3/8 inch diameter SH966 $ 97.50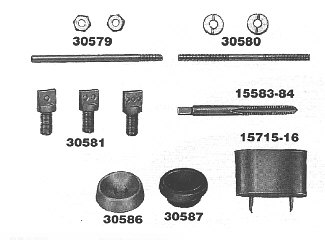 Grand Agraffes
Some high quality uprights also had grand piano type agraffes.
Go to the Restringing Page for agraffes and tools for them.
See our Instructions on Agraffe Repair
Grand Hammer Rest Rail Prop-- Support piece in nearly all grand actions--
2 3/4 inch length; set of 5 pieces Old Part Number 30580B (includes nuts) SH1027 $ 22.50
Grand Hammer Rail Slotted Prop Nuts- See in graphic above at top right SH925 $ 1.00 ea.
Grand Lid Support Cups-- Receive the top end of the lid prop
Brass Finish-- Old Part Number 30586 SH938 $ 9.75
Nickel Finish-- 30586N SH938N $ 14.25




ORDER BY PHONE WITH CREDIT CARD
CALL TOLL FREE: (800) 338-8863
If there is no answer, please leave a message- we do answer our voicemail

OR:
Go to Mail Order Form for printing: