Other tools not found on this page can be seen
by hitting links at the bottom of this page.
RESTRINGING TOOLS--
Description Part Number Price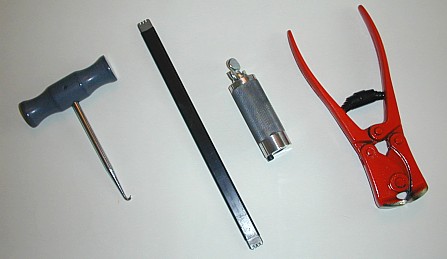 String positioning tool- If strings touch, you will have a mess in
tuning and sound- See graphic at left (second tool from left) Part Number SH133 $ 21.85
String hook- Plastic handle with 4" string hook, for lifting coils tight
and neat around tuning pins. (Tool on far left in graphic at left.)
Part Number SH135C $ 29.50


String Stretcher-- Looks like a pizza cutter-- Grooved brass wheel rides the new
string as you push down and remove elasticity from a new string. Without
this step you will find the strings stretching greatly, causing many re-tunings.
This is the least harsh and even pressured method of stretching a new string.
No graphic of this tool
"Chipping", over pulling a string, is ideal, but most of us flatlanders don't
know the amount of over pull which is safe and effective. Use this tool instead. SH132 $ 70.95
Stringing Crank -- See on Tuning Lever Page Graphic
Plastic handle on crank instead of wooden ball, as in the graphic
Speeds up re-stringing of all pianos; use in conjunction with Coil Winder SH109 $ 36.50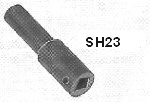 Ratchet Head Socket- Speeds up removing and driving in new
tuning pins- Use an automotive application 3/8ths inch ratchet
wrench- Star head- eight points for more positioning choices SH23 $ 40.00
Power Drill Style- Fits in three sided power drill chuck. SH63 $ 33.50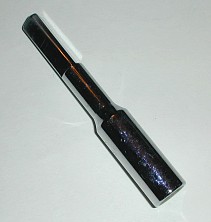 Pin Setting Tool- Used to drive loose pins deeper. Not for production use See Tuning Tools
Starrett Piano Wire Cutters
See graphic above with the red cutters. Best in the trade. For heavy
continuous use. Jaws, cutters, and all parts can be replaced
7" Carbide Tipped SH225XB $ 525.00
New Jaws for 7 inch cutterscarbide tipped SH226XB $ 215.00
Splines for 7 inch cutters SH226-1/2XB $ 26.75

Handle Spring-- 7 inch cutters SH227-1/2B $ 9.25
Xuron Music Wire Cutters
(Not pictured) Gives square ended cuts on both sides.
5 1/2" long, with spring-loaded cushion grip handles. SH227 $ 65.00

Coil Makers-- Make a tight neat coil (becket) of wire around the tuning pin
This tool is use to make the coil before the pin is inserted. The pin must be
hammered in if you use this tool. No graphic for these tools as yet.
You MUST support the pin block underneath the grand piano pin block.
Sciortino Hand Held Model-- Place the tuning pin in the tool, insert the wire
into the pin, and turn the pin with the tuning lever. A very good coil is made.
SH273 $ 52.50






Loop Maker-- Bass strings come with a loop ordinarily. No graphic for this tool as yet.
This tool will be needed on certain pianos which have a loop on all treble strings,
and on the odd string on almost all pianos where the wire pattern leaves one string
odd which must have a loop. A sloppy loop will unravel with time. Esthetics are not
the only consideration here. This loop maker is not a factory model, but it will clamp
in a bench vise for excellent control, and it will make either long traditional or
German type small loops SH115 $ 81.75
Bass String Twisting Tool-- When a bass string goes dull from age, it can be turned
in order to tighten the copper winding and brighten the sound. Loosen the string,
remove the loop from the lower hitch pin, and use this tool. Tool inserts through
the loop hole, and you turn one or two (never half turn intervals), and push the
tip of the tool down over the hitch pin. Push the handle in, and the loop slips back
over the hitch pin. Other techniques can be very frustrating and skin knuckles.
No graphic of this tool as yet-- It has a wooden handle SH262 $ 26.25
Tuning Pin Wood Bushing Driver--
This tool is used to drive in the new wooden bushings before inserting the tuning pins.
The tool has a point at the working end, beyond the area which forces the wooden
bushing into the plate. This point will mark a new pin block so that he hole can be
positioned correctly in relation to the wooden bushing. 3/8 inch diameter SH174C $ 32.50
Tuning Pin Punch-
This punch is used to drive the new tuning pin into the new pin block. This process
must NOT to done without useing support under the pin block. 3 inches long SH174 $ 26.75
See Support Tools below.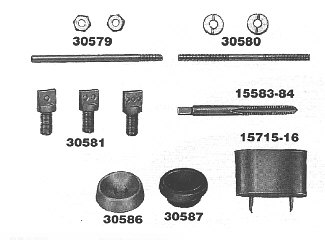 Grand Agraffes-- Solid brass-- Steinway type,
but will fit other grands.
Available in single, double, and three wire type.
1/4 inch dia. Single, Double, or Trichord
Old Part No. 30581A1-2-3
New Part Number
Single String- SH927S $ 7.00 ea.
Double String- SH927D $ 7 .00 ea.
Doouble Wide String- SH927DW $ 7.00 ea.
Triple String- SH927T $ 7.00 ea.
One Dozen 74.00




Grand Agraffes-- Solid brass-- Steinway type, but will fit other grands.
Available in single, double, and three wire type.
7/32 inch dia. Single, Double, or Trichord
Old Part No. 30581A1-2-3 New Part Number
Single String- SH926S $ 7.00 ea.
Double String- SH926D $ 7.00 ea.
Double Wide String- SH926DW $ 7.00 ea.
Triple String- SH926T $ 7.00 ea.
One Dozen 74.00
See our Instructions on Agraffe Repair
See abrasive cord for polishing Agraffe Holes
Some items in the above graphic do not apply to this page.
Some high quality uprights also had grand piano type agraffes.
Agraffe Shimming Washers--
A new agraffe will tighter with the holes not lined up right.
These shims make it possible to align the holes when the agraffe is tight.
Per 100-- SH922 $ 49.00
Agraffe taps-- See 15583-84 in graphic above
1/4 inch dia. hole-- 36 threads SH987 $ 40.95
7/32 inch dia. hole-- 36 threads SH985 $ 49.25
Tap Handle-- (Not shown) SH989 $ 26.75
Agraffe Tap Drills-- Drill hole for grand agraffes
#2 drill for 1/4 inch agraffe tap SH988 $ 8.50
#11 drill for 7/32 inch agraffe tap SH986 $ 8.50
Extractor: Used to remove broken agraffe base stuck in the harp SH983 $ 7.00
7/64 inch drill to use with extractor SH984 $ 5.00
Abrasive Chord-- .055 inches diameter

Used to buff out or deburr the hole in agraffes. Used anywhere a hard to
reach spot needs limited buffing -- Sold in five foot lengths SH561 $ 4.25 ea.
Agraffes for repairing the bass bridge--
They replace the bridge pins and raise the string increasing bearing.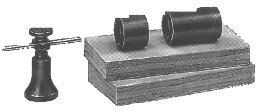 Pin Block Support Jack-- Used to support the pin block while driving new pins in a grand.
Comes with 2 laminated wood blocks and two steel cylinders for adjustment. Also, this
has to be the smallest screw jack in the world. It would be very handy in a craftsman's
shop when support is needed under a heavy object, or where glued objects
cannot be clamped in a conventional way. -- SH800 $ 132.50
Pin Block Support-- Made of two, top and bottom, laminated boards
11"L x 4-1/2"Wx1-3/4"H-- Two threaded bolts with a not allow the boards to be
raised under the pin block to give good lift and stability when hammering new pins in. SH799 $ 83.00
ORDER TUNING PINS and Pin Block Drilling Bits
RESTRINGING BRAID AND FELT FOR DAMPING UNDER WIRE ENDS
OTHER PIANO REPAIR AND RESTORATION TOOLS: