STORE HOURS
9 TO 6 CDT
GMT minus 5 hours
Monday thru Friday
Do not call on
Sat. Sun. please

PLAYER PIANO
AND PUMP ORGAN SUPPLIES
ORDERING INFORMATION:
MINIMUM ORDER:
Minimum Order $20
SHIPPING POLICY:
Priority Mail shipping for most items. UPS by request.
You MUST browse the Catalog area, and try to learn what you want. We no longer search our catalog for you.
Have this information ready:
1. Description of parts
2. Part Numbers
3. Prices
4. Dimensions where needed
BEFORE you call us please.
Make sure you are in the catalog area for your kind of piano--
Such as Grand Pianos,
Full Uprights, Spinets, etc.
If you are confused, call us for assistance.
If we do not answer the phone, we are probably here-- Just leave a message- we will return your call (it may not be the same day).
:-)
A player piano is a work of art. It also gives hours and hours of
music to us flatlanders who cannot play at all. It also has a real acoustic
sound, which is not yet perfected in electronics. Do beware though of
thinking you have a long term collectors item in a player. They may get
you a nice profit if you sell them right after restoration, but let them sit, and
they deteriorate again and destroy your investment. We tell you the truth here.
CAUTION: Though Keith has over 30 years experience tuning and
restoring pianos, he has not had a great deal of experience with players.
He will try to help you with the knowledge he has, but you would be well
advised to purchase the best book worldwide on player piano restoration:
Player Piano Servicing and Rebuilding By Arthur Reblitz
See the book for sale at the bottom of this page.
PAGE CONTENTS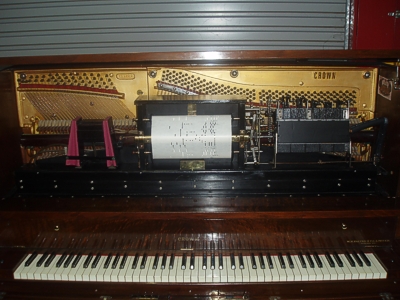 Crown Autoplayer

Restored by our customer

SEARCH THE WHOLE SITE


Turn off the music here
More player MIDIs at pianola.co.nz

TECHNICAL HELP:

John Tuttle has the best resource on the web in player piano technical information. He also may have parts you need which we do not carry.
GENERAL PLAYER PIANO PARTS--
Scroll down this page

GLUE AND ADHESIVE
FOR PLAYER PIANO AND REED ORGAN WORK


PUMP (REED) ORGAN SUPPLIES
Go here if you are actually looking for pump organ parts

DRY LUBE, TEFLON POWDER, GRAPHITE, AND OTHER PIANO
GLUES AND LUBRICANTS
This page has many glue and lubricant choices which apply to player piano needs.
---
Part Description: Part Number Price



Black neoprene tubing for the tracking bar 3/64ths wall SH606B $ 1.00 ft.**
100 foot roll 3/64ths wall SH606B $ 48.00
1/32nd wall SH606A $ 1.00 ft.**
. 100 foot roll 1/32nd wall SH606A $ 49.00
Inside diameter on all of the above is 9/64 inch.
** By the foot only if we have broken rolls.
Most player pianos produced before WW II require No. SH606A tubing with 1/32 inch walls.
Most player produced AFTER WW II require tubing No. SH606B tuning with 3/64 wall.
Tubing for Expression Buttons- Same materials as above tubing
3/16 inch inside diameter-- 3/64 inch wall thickness-- 50 feet box SH605A $ 23.65
1/4 inch inside diameter-- 1/16 inch wall thickness-- 20 feel box SH605B $ 25.00
Tubing for Controls- Same materials as above tubing
5/16 inch inside diameter-- 1/16 inch wall thickness-- 20 feet box SH605C $ 25.50
3/8 inch inside diameter-- 5/64 inch wall thickness-- 13 feet box SH605D $ 27.95
7/32" inch inside diameter--3/64" wall thickness--50 feet box SH605E $ 24.75
1/2 inch inside diameter-- 1/8 inch wall thickness-- Twill covered SH620B $ 22.15 / ft.
5/8 inch inside diameter-- 1/8 inch wall thickness-- Twill covered SH620C $ 23.25 / ft.
3/4 inch inside diameter-- 1/8 inch wall thickness-- Twill covered SH620D $ 26.75 / ft.
1 inch inside diameter-- 5/32 inch wall thickness-- Twill covered SH620E $ 27.35 / ft.
1-1/8 inch inside diameter-- 5/32 inch wall thickness-- Twill covered SH620F $ 28.35 / ft.
1-1/4 inch inside diameter-- 5/32 inch wall thickness-- Twill covered SH620G $ 29.15 / ft.
1-1/2 inch inside diameter-- 5/32 inch wall thickness-- Twill covered SH620H $ 29.50 / ft.
1-1/16 inch inside diameter-- 5/32 inch wall thickness-- Twill covered SH620J $ 27.95 / ft.
7/8 inch inside diameter-- 1/8 inch wall thickness-- Twill covered SH620K $ 27.15/ ft.
BOOKS ON PLAYER PIANOS AND REED ORGANS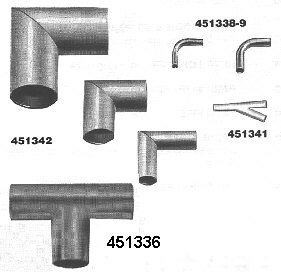 etal Pipe Fittings- 90 degree Elbows
Small size Brass Tubing Elbows--
For 9/64 inch tubing-
Old Part No. 451338 SH604A $ 3.00 each
For 3/16 inch tubing-
Old Part No. 451339 SH604B $ 3.00 each
Large Brass 90 Degree Elbows-- No Longer Available

Plastic Connections for Tubing--
"Y" Connectors-- Each-- Old Part No. 451341 SH601A $ 3.00

Straight brass tubing connectors-- Dozens only
For 9/64 Inside diameter Tubing SH602A $ 11.00
For 3/16 Inside diameter Tubing SH602B $ 11.00
For 1/4 Inside diameter Tubing SH601C $ 11.00
For 3/8 Inside diameter Tubing SH601D $ 11.00
For 1/4 Inside diameter Tubing SH601F $ 11.00
Check Valve- 2 inch diameter- Can be used for vacuum or pressure
Used in hose from electric vacuum pump to reservoir DA1141 $ 46.75
Chack Valve- Elbow type- 1-1/4 inch hose- Gasket attached

When vacuum supply turned off, the ball closes and holds vacuum DA387 $ 39.00
Straight Flanged Nipples--
7/8 inch See 451321 above DA101 $ 8.60
11-1/16 inch See 451321 above DA103 $ 7.50
1-1/8 inch See 451321 above DA104 $ 7.50
1-1/4 inch See 451321 above DA105 $ 7.50
1-1/2 inch See 451321 above DA107 $ 7.50
2 inch See 451321 above DA110 $ 8.60
Flanged Elbows--
3/4 inch See 451322 above DA121 $ 11.50
7/8 inch See 451322 above DA123 $ 11.50
1 inch See 451322 above DA124 $ 11.50
1 1/8 inch See 451322 above DA126 $ 11.50
1 1/4 inch See 451322 above DA127 $ 13.50
AMPICO Transmission Frame--
Old Part No.-- 451323 SH680 $ 62.00
AMPICO Valve Switches--
Durable two piece plastic switches.
Springs and levers not included.
Modify Old Part No. 451324A SH631 $ 54.60
Pedal Old Part No. 451324B SH630 $ 51.00
Ampico (On / Off switch) Old Part No. 451324C SH633 $ 47.95
Repeat Old Part No. 451324D SH632 $ 47.95
Reducing Nipples-- Used at the tracker bar to reduce hole to tubing connection
7/32 to 5/32 inch Straight See 451326 in graphic above DA351 $ 2.00 ea. $ 18.00 per doz.
1/4 to 5/32 inch Straight See 451326 in graphic above DA352 $ 2.20 ea. $ 19.45 per doz.
5/32 to 3/32 inch Straight See 451326 in graphic above DA353 $ 3.10 ea. $ 29.00 per doz.
3/16 to 5/32 inch ELBOW See 451326 in graphic above DA361 $ 3.00 ea. $ 28.00 per doz.
Tracker Bar Tube Puller and Cleaner- This tool will assist in pulling tubing from
tracker bar. Also useful for cleaning tracker bar nipples after tuning has been removed.
We now carry a model of this tool whick is better made than the one in the graphic.
See Part Number 451328 in the graphic. SH694 $ 15.00
---
Aeolian Player Valve Assembly- Specify left or right-- SH699 $ 21.25
Leather and Synthetic Valve Facings- Sold in sets of 100
We need the size and make of your player works--
Please have the Inside and Outside Diameter and thickness in .001 inch
Your make of player works would help also.
Sizes: 3/8 throughh 13/16 inch diameter
Prices: From $ 10.00 to $ 60.00, depending on application
Lifter Discs- paper for pouches- Set of 100 only
For three tier-- 3/4 inch diameter DA663 $ 8.35
For two tier-- 5/8 inch diameter DA973 $ 6.20
Complete Simplex Rebuilding Kit
Everything needed to rebuild and test a set of Simplex three-tier screw-on
pneumatic units. Step by step instructions included. Also includes a DA1680
pneumatic tester and DA170 pneumatic recovering jig. New valves, pouches,
lifter disks, hinges, and gaskets, as well as all types of glue needed.
Kit for 7/16 inch valve hole DA2600 call for availability
Kit for 1/2 inch valve hole DA2601 call for availability
Valve Diaphragm Dishing Tool-- 7/8 inch- See 451303 above DA728 $ 14.50
Valve Diaphragm Dishing Tool-- 7/8 inch- See 451304 above
Vacuum operated for production work.
Vacuum source must be available to use this tool SH696 $ 22.00
Parts for Specialized Brands
We can supply most valve, pouch, and pneumatic parts for the following brands.
Some brands cannot be fully supplied
Amphion
Ampico
Autopiano
Baldwin
Gulbransen
Kimball
Janssen
Melville Clark
Schulz
Seeburg
Simplex ( All parts )
Standard
Starr
Story and Clark
Wurlitzer
Orchestron
If your brand is not listed, we still may be able to supply parts.
Look at the graphic below, and be ready to give the name of the part when
you call. We will very likely have to set up the order and call you back.

Almost all items below are sold in sets of 100.
This is a "Standard" valve.
Other brands are configured differently, and the size of the parts will vary, so we
need to know what you need by brand and part name so that we can find it in our
list of parts. Please measure your part before calling. Inside and outside diameters, etc.
Valve Stem-- Part # DA1110
Price: Out of stock at this time

Valve Stem Guide-- Part # DA1109
Price: $ 2.00 each; $ 105.00 per 100

Forced Fit Collar-- Part # DA1111
Price: currently not available

Sponge Washer-- Part # DA1112
price: currently not available

Top Plate-- Part # DA1113
Price: $2.00 each; $33.00 per 100

Valve Leather-- Part # DA 1114
Price $ 2.00 each; $ 90.00 per 100

Backing Plate-- # DA1115
Price: $ 2.00 each; $ 36.00 per 100

Paper Washers-- Part # DA1236
Price: $ 6.00 per 200
Use more than one to achieve 3/64"
valve travel.

Outside Valve-- Part # DA693
Price: $ 2.00 each; $ 107.00 per 100

Outside Valve Guide-- Part # DA1497
Price: $ 2.00 each; $ 46.00 per 100

COMPLETE KIT : DA1100KIT
Includes 100 of each part above except 1111 (300) and 1112 (200)
for $ 450.00 Does not include DA1488
The following parts come in many sizes:
Hard Fiber and Steel disks and washers
Brass collars
Leather Valve Facings
Blotter Paper Gaskets
Pouches
Tubing Connectors
Neoprene and Cloth Covered Tubing
Valve Seats
Manifold Gaskets
Die-Cut Gaskets
Upright Piano Action Parts
Grand Piano Action Parts
---
All action parts from the acoustic piano works are found HERE

One exception: The connection point between the acoustic action
and the player action is the sticker. It is unique because it has an
added button to pick up the force of the player action and cause
the hammers to play. There are also connections for the soft
pedal and a couple of other things.

If you have a broken sticker, we make new ones. See Diagram to
identify the sticker in a piano action. The sticker is part # 12 on that page.
You must send us a good sticker which we will use as a pattern.

One Custom Sticker for Player Piano Part Number- SH510AJPlayer $ 55.00
---
MISC. PARTS -- Chain, Leather Nuts, Roll Repair, Etc.
Part Description: Part Number Price
Muffler Felt-- White felt for muffler boxes
2 inches by 54 inches by 1/6 inch thick SH301 $ 5.00

Straight Nipples for Player Tubing-- See up the page
Leather Nuts--


Diameter

3/16 inch
1/4 inch
5/16 inch
3/8 inch
7/16 inch
1/2 inch

Hole Diameter

.0635 inch
.070 inch
.070 inch
.086 inch
.0635 inch
.0635 inch

Part Number

SH603A
SH603B
SH603C
SH603D
SH603E
SH603F

Price

$ 14.40 / 100
$ 14.40 / 100
$ 14.40 / 100
$ 14.40 / 100
$ 14.40 / 100
$ 14.60 / 100
Ladder Chain-- By the yard only--
Four links per inch-- Old Part No. 451390 SH 609-4 $ 9.85 / yard
Five links per inch-- SH 609-5 $ 9.85 / yard
Pedal webbing- 2 inches wide
Connects pedals to pumping bellows.
Used as hinges on bellows also-
Sometimes used to connect pedals to bellows. SH716 $ 2.00 / foot
Player Roll Tabs--
Each Old Part No. 4513915 SH613 $ 1.00
Box of 100 Old Part No. 4513915 SH613 $ 65.00
Paper Tape to repair the end and edges of player piano rolls--
Also mends torn paper in books, letters, maps, pamphlets and documents.
Transparent Pressure-sensitive-- tissue-thin paper tape features a
pressure-sensitive, pH neutral adhesive that will not yellow, flake off
or damage piano rolls. The pH tests at 8.8 unaged, 8.1 aged.
This tape is thin and will not interfere with playing. You will need to avoid
covering tracking holes. You must cut out and work around them.
Not subject to minimum order restraints
One inch wide-- Minimum order is 10 feet
Ten feet GL-001 $ 7.50
Additional feet but less than 100 feet $ .75 per foot
100 feet of 1 inch wide Not in inventory- Drop shipped GL-100 $ 35.00
165 feet of 3/4 inch wide Usually in inventory GL-165 $ 42.45
Player bleed or vent cups-- Brass
Dozen Old Part No. 451343 below SH678 $ 5.25
100 SH678 $ 39.50


Spool Pins--
Straight for left side Old Part No. 451344A SH614L $ 6.00 ea.




Invisible Hinges-
Used for fallboards (key covers) and key slips. Used on almost all old player pianos.
Furnished with screws

Width

Part Number

Price

Nickel, 1" long by 3/8" wide
Satin Brass- 1" long by 3/8" wide
Nickel, 1 3/4" long by 3/8" wide
Satin Brass, 1 3/4" long by 3/8" wide
Satin Brass, 1 1/2" long by 1/2" wide

SH5100
SH5100-1/2
SH5101
SH5101-1/2
SH5102

$ 16.00
$ 16.00
$ 16.00
$ 16.00
$ 16.00
---
TRACKER BAR, TAKE UP SPOOLS, AND TEMPO HARDWARE
Part Description: Part Number Price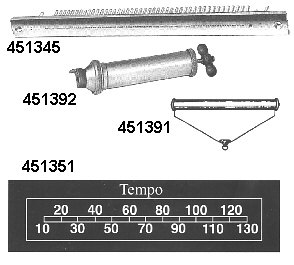 Tracker Bar--
Old Part No. 451345A SH610 $ 194.00
Transposing Tracker Bar--
Old Part No. 451345B SH690 $ 199.00
Tracker Bar Pump-type Cleaner--
Vacuum draws out dirt and lead
oxide. Aluminum with soft rubber
nozzle, and removable dust screen.
Old Part no. 451392 SH626 $ 100.00



Replacement rubber nozzle for tracker bar pump SH626A $ 11.85
Replacement filter for tracker bar pump SH626B $ 9.00
Player Roll Spool Ends-- Black plastic
For Regular size rolls, 2 inches diameter
Left side without slot Old Part No. 451348A SH615L $ 2.00
Right side with slot Old Part No. 451348B SH615R $ 2.00
Pressure Sensitive Tempo Strip--
Renew old worn Tempo Indicators with this
convenient Mylar strip. Will fit many standard players. See 451351 above
Pressure sensitive plate From 0 to 130 DA500 $ 3.00
Like original-- screw on From 0 to 130 DA501 $ 13.00
Brass plate from 0 to 100 only DA1759 $ 6.00

CELLULOSE TABS FOR CONTROLS AND SPEED INDICATOR
Scroll down the page to the Custom Stop Section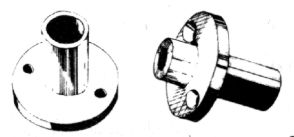 Tracker Bar Right and Left Bearing--
This item may not be available.
Inquire by e-mail or phone.
Brass and replaces old broken or worn
lead bearing. AMPICO ONLY
Can receive left plunger or right music
roll chuck key. DA560 $ 101.00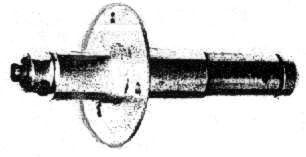 Music Roll Carrier-- Left Hand
Mounts in left side of tracker box and
receives piano roll spool. Standard
replacement on 88 note key players.
Will adjust to 5/8 inch, depending on
setting of the color on the slide key.
If roll allignment is off, this part could
solve the whole problem. DA509 $ 62.00
Take up Spool-- All Purpose-- First most players, especially uprights

Take up spool no longer available. But call for a referral to the one place we know of where you can get one! $ 75.00
Take up Spool-- Ampico Grands Only

Like original except that teflon insert is added in the left hub instead of ball bearing DA579 $ 295.50
BELLOWS SPRINGS-- Inside and Outward pressure
TEST ROLLS-- All of these are now available
Part Description: Part Number Price

Q.R.S. Test Roll-- Standard 88 key test DA826 $ 31.50

AMPICO Test Roll-- For checking the operation of the expression mechanism and of DA930 $ 53.50
individual notes of both Model A and Model B AMPICO mechanisms.
Instructions included.

Duo Art Test Roll-- Instruction sheet furnished-- DA831 check for availability

Welte-Mignon Test Roll-- Instruction Sheet furnished-- DA832 $ 53.50

Recordo Test Roll-- DA827 $ 34.50
Part Description: Part Number Price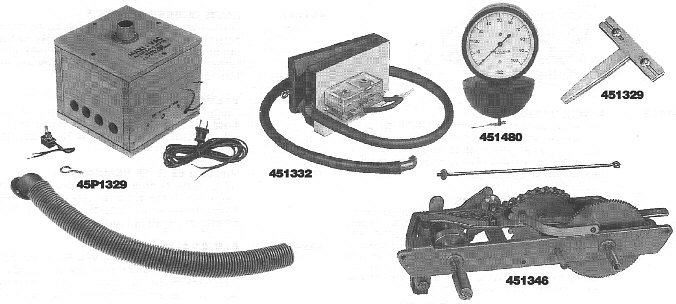 Deluxe Pump with auto-sensor and electronic controls--
[ Update: The vacuum pump in the graphic is an older model but looks the same.
No. 45P1329 has been discontinued from all suppliers as far as I can learn. ]
The deluxe pump is more advanced and will perform far better.
Noise level is minimal. Motor speed is in direct ratio of vacuum needed.
Electronics are used to sense the level of vacuum needed.
A Switching signal reduces motor speed during rewind.
The tightness of the player system will determine the setting of the volume knob.
Can be turned to full volume to produce 45 inches of vacuum.
Complete installation instructions provided. Has build in check valves
so that the original foot pump system is retained and operative. All pre-wired
controls-- just set box in place and drill one hole in original pump channel.
Control panel mounts on underside of keyboard with off/on switch, volume control
knob and rewind speed adjustment.
Measure 7 1/2 inches by 7 1/2 inches by 10 inches-- Weight approx. 13 lbs.
No return policy on international orders.
Old Part No. 45P1330 DA650 $ 375.00
CAUTION:
The Automatic Re-roll unit and Automatic Shut Off features
are NOT included in the above Deluxe Pump. They will be available as add ons
later in the fall of 2013.
Automatic Re-roll Unit-- For full size players only--
Approx. 4 inches wide, 8 inches high, and 2 inches deep--
Old Part No. 451332 DA916 $ 139.50
Automatic Shut off Switch
Shuts off the Re-roll Unit when the roll is done rewinding
Easily installed inside piano case just above the spoolbox shelf DA652 $ 90.00
The following three pumps are not available at this time.
Suction Box Only-- 55 inches of vacuum-- overpower minor leaks
This vacuum box will replace a burned out box on a piano that has already
been converted. There are NO regulating controls or hoses included. DA554
Little Wonder Suction Box
This vacuum box will fit in console players which have limited space issues.
It is 7-1/2 inches square. Includes internal check valve. The kit Includes a
pre-wired switch box with electronic playing volume regulation,
zero to 30 inches water gauge vacuum. DA649
Economy Vacuum Box-- Plain Jane-- 10 inches square-- No regulation, hose,
or turn-off switch-- Delivers constant 15 inches vacuum. This will drive a
completely rebuilt player piano. Has check valve under flange nipple on top DA699
Precision Vacuum Gage-- 2 1/2 inch dial face graduated from 0 to 100 inches of
water vacuum. The only accurate method for measuring the amount of vacuum
generated by a piano or reed organ.
Tapered rubber plug fits easily into pump hose.
Old Part No. 451480 SH616 $ 101.00
Player Piano Transmission-- A complete transmission unit that will serve as a
replacement on most standard players if minor modifications are made.
Old Part No. 451346 SH624 $ 188.00
Ampico Transmission Frame only SH680 $ 62.00
---
Part Description: Part Number Price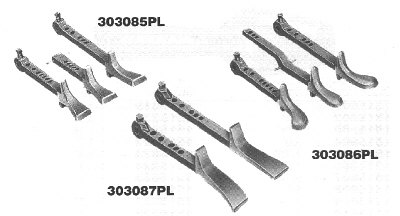 Set of three square toes. Right pedal 10 1/2 inches long overall.
Solid brass capped toes on cast iron stems.
Center- 7 1/2 inches. Left- 9 inches long
Old Part No. 303085APL SH645 $ 120.00
Pair of two pedals (No center pedal)
Old Part No. 303085BPL SH645A $ 93.00
Set of Three round toe player pedals-- Polished brass
Right pedal 10 1/2 inches long overall
Center- 11 1/4 inches.
Left- 9 inches long Old Part No. 303086APL SH643 $ 108.00
Pair of Two pedals (No center pedal) Otherwise, same as above
Old Part No. 303086BPL SH643A $ 78.00
PRACTICE MUTE AND RINKY TINK OR MANDOLIN KIT
Practice Mute Replacement felt- 2 inches wide by 54 inches long and tapered
This felt strip is made to replace the felt mute in old uprights that had it, and it
is found in some Asian pianos in modern times. You will have to remove the
old strip and fit the new ones. This will involve making provision for the vertical
metal brackets mounting the action in the piano. Use Elmer's Carpenter's Glue
to attach the new felt strip to the old bar. SH300 $ 13.65 each




Rinky Tink or Mandolin Kit for Uprights
This kit has everything needed to add a rinky tink sound to your upright piano.
It includes a cable pull to mount under the key bed which you can pul to
control the device. This kit can also be used to mount the quieting Practice
Mute above. But, we cannot alter the original kit to reduce the price.
This kit will require some detailed fitting of the leather and tabs which you will
be required to attach. It cannot be made ahead of time to fit any piano at random
because the string placement of all pianos varies from piano to piano. If you are
not an intuitive person, or if you do not have a friend with mechanical talents,
you should not try this. We CANNOT promise you success unless you are willing
to take responsibility for your success. We will not refund your money if you
in any way start to modify the kit parts. Having made this rather ominous disclaimer,
I must say that the kit is very well planned, and, as far as I know, this is the only kit
of its kind available at this time. It was designed by a man with 50 years in the trade.
Complete instructions are provided with the kit DA842 $ 127.80
Do-It-Youself Rinky Tink or Mandolin Kit-- THIS IS A CONVERSION KIT
You MUST already have a practice mute in your piano to use this kit.
Also, you will have to innovate and make the products work for you. I cannot
write instuctions which will cover anything you will run into. This means you will
need to determine where the strings are in relation to the leather strip AFTER you
install the leather strip. You may do this by attaching carbon paper to the back of
the leather strip facing the leather and run the front of the leather with a hard object.
Remove the carbon paper, and cut between the marks made by the strings on the
leather. You may also rub the strings with chalk and rub the front of the leather.
This will tell you where to cut the leather strip. You must have the confidence to
innovate because I cannot predict all the variables you may encounter. Be sure to
clamp the metal tabs so that they are in a straight line, and position the mute bar so that
the tabs are just barely BELOW the actual point the hammer hits the strings. This will
prevent destruction of the hammers over time.
3 inch by 48 inch leather strip and 100 metal tabs to attach to the strip.

Part Numbers DA68 and DA848 $ 39.00 total
---
THE BEST BOOK FOR PLAYER PIANO RESTORATION
Part Description: Part Number Price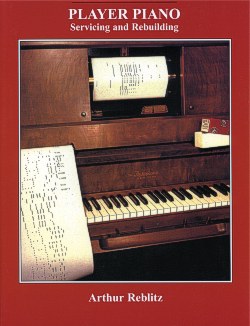 PLAYER PIANO SERVICING AND REBUILDING
By ARTHUR REBLITZ
A superb book that touches on every aspect of its title. 8-1/2" x 1 1",
216 pages, profusely illustrated with fine photographs and diagrams.
The most comprehensive book on the subject ever written. Those with
casual or professional interest in player pianos will find this book
fascinating and indispensable. The non-player aspects of a piano are not
covered in this book. For that, you need:
PIANO SERVICING, TUNING, AND REPAIRING
By ARTHUR A. REBLITZ.
Paperback NBN-2 $ 30.00
Mounted in three ring binder--
Will lay flat for easy use in the workshop NBN-2/Binder $ 52.00
With a $ 300 order, the book is offered at $ 21.00 paperback, and $ 41.00 in the binder.
AND,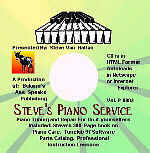 Our CD with Piano Tuning Instructions and tuning software is free with a $ 200 order also.
FIND MORE BOOKS ON PLAYER PIANOS,
Repair, Restoration, History, and Value
---
PUMP (REED) ORGAN SUPPLIES-- Find many Player Piano parts here
VISIT OUR PAGES ON PLAYER PIANO REPAIR AND ADJUSTMENT:
WE OFFER A PLAYER PIANO WEB RING FOR YOU TO SURF
YOU WILL FIND SOME EXCEPTIONAL PEOPLE TO SERVE YOU
See the bottom of the page.

OUR MENU OF PLAYER PIANO INSTRUCTION

68. Varmints, Lubrication of Player Pianos

69. Adjustment of Player Pianos

70. Bellows repair in Player Pianos


ORDER BY PHONE WITH CREDIT CARD
CALL TOLL FREE: (800) 338-8863
If there is no answer, please leave a message- we do answer our voicemail

OR:
Go to Mail Order Form for printing:
Online help available



Chapter XII. GENERAL CONSTRUCTION OF PLAYER MECHANISMS.
(Continuation of William Braid White's Piano Tuning and the Allied Arts 1917 edition.)
This chapter discusses various player piano components and their features and functions.
Previous Chapter Next Chapter WBW Contents
Piano-playing mechanisms have been developed after two general types. One of these is the detached or cabinet player, consisting of a separate mechanism enclosed in a case and mounted on casters so that it may be moved about readily. It is secured in front of the piano, with its fingers resting over the piano keys; and when the piano is to be used for manual playing, it may be moved away. This type, self-contained and involving no modification of the piano, was the first to come on the market, and the earliest specimens date from the year 1897. Some five years after their first appearance, their popularity was menaced by the " player-piano," as it came to be called, which contains both elements in the one case. From that time, the prestige of the cabinet player declined, until to-day one seldom meets it.
The other type is of course the " player-piano" of today, consisting of a player mechanism built into the waste space inside the outer casing of a piano and combining in the one structure both the ordinary piano and the playing mechanism, in such a way that neither interferes with the other and the piano can be played in the ordinary way if desired. I propose to give some general account of both types, although the cabinet player needs only brief mention.
The Modern Player Piano.
The modern player piano consists of an ordinary piano, of which the case is usually somewhat widened, containing in the space between the action and the top and bottom panels, a playing mechanism for operating each of the eighty-eight sections of the piano action. This mechanism is commonly divided into two grand divisions; known respectively as the Bottom Action and the Top Action. These I shall describe in turn.
Bottom Action.
The Bottom Action is that part of the mechanism placed beneath the key bed of the piano, and is commonly one self-contained piece of machinery. Sometimes a few of its accessory devices are placed away from it and connected with it by tubes. The Bottom action itself comprises principally the exhaust bellows, the pedal action attached to them, and the equalizer system. This is known as the "bellows system," and to it are commonly attached various subsidiary devices, such as the motor governor, the expression governor, the action cut off valve, and the pneumatic sustaining pedal action. The bottom action is of course connected with the top action (comprising the pneumatic stack and spool box with motor), by means of two main air tubes, one at the left side connecting with the pneumatic stack and one at the right with the motor.
Bellows.
The modem bellows system is a highly sensitive organism, comprising two exhaust units connected to foot treadles, and one or two equalizers. The double equalizer system is the more common of late. The two exhausters are each kept closed with a spring of about 7 pounds pressure, whilst the equalizers (if there are two), are spring-expanded (kept open) by springs respectively of 14 and 28 pounds. The latter, or high tension, springs are often reinforced further by means of an extra wood spring external to the equalizer and designed to come into action only when the equalizer is half closed. The idea of having two equalizers is simply to ensure that the bellows system shall not "go dead" on very hard pumping; which means that the two equalizers shall not both close up and remain closed until the tension has been relieved by momentary stoppage of pumping. With a good mechanism, well-made, and with heavy pumping, this might happen if the spring pressure on an ordinary equalizer were no more than 14 pounds total, for this would not be much more than 2 ounces per square inch on the wall of the equalizer. If the equalizer did remain closed it would simply be out of action, for it is plain (1) that it does no work till it begins to open after being closed. Hence the double spring pressure on the high tension equalizer.
Two well known types of mechanism (the Auto- pneumatic Action Co.'s "Auto-De-Luxe" and the Standard Pneumatic Action Co.'s " Standard"), are provided with a special device in the equalizer known as the "'crash bellows" (though just why this name, I do not know) . This is simply a small bellows placed inside the equalizer over the connecting passage which runs outward to the main channel and to the exhauster, in such a way that a sudden raising of the tension level, due to hard pumping, will close down the small bellows over the opening and for the moment cut off the equalizer, thus giving the bellows that much less air space to exhaust and therefore increasing its relative power. As soon as the effect of the sudden extra pumping work has evaporated, the crash bellows again open and the equalizer is once more thrown into operation.
Motor Governor.
The bellows system includes always, whether immediately placed on itself, or at one side of and pneumatically connected with it, what is called a :motor governor." This device has been essentially described in the previous chapter and it is therefore now only necessary to remark that it is commonly fitted with a spring, adjustable for tension, and with some sort of adjusting screw for limiting the closing of its bellows. The speed of the motor is increased by increasing the tension of the spring. That is to say, the motor, irrespective of the tempo valve, may be caused to move at a speed greater on any tempo valve position than originally it is adjusted to give on that position; and incidentally on all other
positions. This general raising of the speed level on all positions proportionately may be accomplished by stiffening the spring. This simply means that the stiffer spring imposes greater resistance to the closing of the motor governor bellows,2 so that, for any given rate of pumping, the cut-off valve in the governor closes less; but this again means, of course, that proportionately more effort is required to pass the displaced air through the larger opening. Thus the effect of stiffening the spring is indeed to increase the speed, but only by giving the opportunity to the performer to get that higher speed by harder work on the treadles, although the fact that the work is harder is usually not perceived. In just the same way the tension may be released somewhat, with consequent quicker closing of the governor, quicker cut-off and lower general speed level.
Adjusting screw.
An adjusting screw is found on all motor governors, or on nearly all. Its object is to control the proportionate closing of the bellows. In some types this screw simply abuts on a block inside the governor so that, the further it is turned in, the less the governor can close. In other kinds the screw bears against one end of a rocking lever of which the other end controls the cut-off valve, so that the further the screw is turned in the more the cut-off valve is closed up. To determine the particular system used in any given case, one must know the player, or else must experiment with it to discover which method is used. The Auto-pneumatic and Standard players use the first system and the Gulbransen, the Cable Inner-Player and others use the second. The point is that if the motor is unsteady on changes of pumping, the screw adjustment may be used to make correction of the fault. Such unsteadiness shows that the governor closes too much or too little, as the case may be. If the motor drags on light pumping, so that its speed falls, that shows that the governor closes too much and either its spring is too light or the adjusting screw must be turned to limit its closing. If the motor races on hard pumping, that shows that the governor closes not enough, or else that the spring is too stiff. If the general speed is right, then the fault is in the adjustment of the governor; which is corrected as described.
Expression Governors.
Some players (Aeolian, Auto-pneumatic, some types; Price & Teeple, A. B. Chase, Cable, Angelus, etc.), are fitted with an additional governor on the bellows system known as the Expression Governor. The principle of its operation is of course identical with that of the motor governor, but the object of its existence is different. The motor governor exists to maintain a steady level of power, but the object of the expression governor is to enable quick changes to be made from a fixed governed low level to the ungoverned (high) level at which the exhausters of the bellows system are working at any moment. All sorts of detail differences are possible, and existing, with regard to the construction of such devices; but the type illustrated here (based on the system used in the Auto-pneumatic mechanism), will serve the purpose of description.
It will be observed that we have a governing bellows, or auxiliary equalizer, held open by an expansion spring. This bellows stands in the channel from pneumatic action to bellows so that air displaced from the action must flow through it on the way to the bellows. A small hinged valve block stands over the channel running to the bellows, and is pressed downwards by a spring on to the stop block on the moving wall of the auxiliary equalizer or governor bellows. It is plain that unless (as shown in the illustration), the valve block were held up forcibly by the button on the threaded wire, it would drop down over its orifice in proportion as the governor might close under pumping. But as normally arranged, the wire is placed to hold the block up and away from the stop block of the governor, and so even if the governor does close, it does not cut off the air passage. If, however, the accent lever on the key slip of the player is thrown over, the wire drops and allows the accent valve block to fall on the stop-block and thus permits the governor to act, for now the cut-off comes into action and the air passage is reduced in area so that the available vacuum is low enough to give only light power and soft playing. When, conversely, the accent lever is allowed to throw back to its normal position, the wire again pushes up the valve block and the governor is again thrown out of action. It is evident that by alternating from low to high pressure, a series of instantaneous changes from soft to loud can be had, thus giving accentuation. This device is sometimes called the ''soft expression governor," although the name is inadequate and misleading. ''Expression governor" is correct. Various other systems and types are used, but the above described method shows the principle thoroughly. It is simply a case of the governor being normally cut out of action, and then of having it thrown into action, to soften the playing when required.
The same effects could be had by a pneumatically operated pouch valve, with a button instead of a lever. Likewise, the accenting effect can be had by perforations in the roll operating on a pouch valve as aforesaid.
Sustaining Pedal Pneumatic.
In many players the sustaining pedal is operated by a direct mechanical lever system without the use of any pneumatic device. But of late years there has arisen a desire for automatic control of the sustaining pedal effects, through perforations in the music roll, and at the same time many retailers have expressed a preference for a pneumatically operated button instead of a direct lever. In this case a large pneumatic equipped with a valve system is placed near the bottom of the piano, adjacent to the damper lift-rod and connected with it so that the rod can be raised when the pneumatic collapses. This pneumatic system is connected to the main bellows system by means of a tube, and so, when the player is working, the vacuum chamber of the system is in a state of partial vacuum. Hence when air is admitted under the valve pouch or pouches by depression of a button or by opening of a perforation in the tracker bar, the pneumatic collapses and the sustaining pedal action operates, lifting the damper from the strings.
Soft Pedal Pneumatics.
Another very common expression device is a pair of pneumatic systems, connected with the bellows system and placed on each side thereof, or above the line of hammers at bass and treble ends of the piano, whereby the hammer line of the piano, artificially divided by a split auxiliary rail, may be raised toward the strings of the piano, all together, or one half at a time. The method of operation is just the same as described for the sustaining pedal action, except that the pneumatics can be made smaller, since the weight to be overcome by each is not great. A pair of buttons on the key slip control the admission of air under the valve systems of the pneumatics. When half the rail is lifted whilst the other half remains in normal position, the blow of the hammers which rest against the former, is shortened, with resultant softening of the sound produced by them. Thus, in a somewhat rough way, the accompaniment part of a composition may be subdued as against the melody voices. Sometimes a pair of direct acting finger levers on the key slip are used to lift the split hammer rail without resort to pneumatic devices.
What is known as the ''floating" hammer-rail is also sometimes used. This is simply an arrangement whereby the hammer rail and the ordinary piano soft pedal action are attached to the moving wall of the equalizer of the bellows system so that as the equalizer sways back and forth the hammer rail is moved forward towards, or back from, the strings. On hard pumping, when the equalizer closes up, the hammers recede from the strings; and on soft pumping, when the equalizer opens again, they approach the strings, thus modifying the length of the hammer blow in accordance with the pumping, and imparting a more flexible quality to the dynamic control of the player.
Action Cut off.
In all player pianos the action is cut off from playing whilst the motor is rewinding the paper, by a door thrown across the main passage from action to bellows. When an expression governor is used, this cut off is usually incorporated in the same box with the rest of the governor, and when two are used two such cut offs are necessary, one for the bass and the other for the treble side of the pneumatically divided action. This door is usually operated by the direct mechanical action of the re-roll lever, which at the same time shifts the gear on the motor and opens the re-roll valve in the tempo-box. Sometimes, however, a pneumatic cut off is used (Gulbransen, Cable, etc.), which operates by the .re-roll lever opening an air passage which lets air down into a partial vacuum chamber, raising a pouch and thus cutting off the piano action by covering the wind way.
Re-roll.
The re-roll operates in the same way, through a re-roll lever, whereby the gear of the motor transmission is reversed and simultaneously a large valve opened in the tempo box, not passing through the governor, whereby the motor can be speeded up in re-rolling. Sometimes a pneumatic gear shifting device is used (Cable).
Silencer.
When a pneumatic action cut off is used, another button may also be placed on the key slip letting in air to operate the cut-off valve without changing the transmission gear of the motor. Then the motor will run forward without the action playing, as is sometimes required for passing rapidly over a part of a roll which the performer does not wish to play. As sometimes built, the "Silencer" also opens the large re-roll valve in the tempo box, again without shifting gears, so that the motor can race ahead. This is only possible, of course, when the re-roll valve is controlled by a pouch instead of a direct action slide valve.
Bleed Holes.
All the valve systems described above as operating the various non-speaking pneumatics, require of course the usual "bleed holes" or "vents" for the purpose of flushing out the air tubes running from tracker bar or button.
Top Action.
The top-action, so-called, of the player-piano consists of (1) the pneumatic stack (2) the motor and (3) the tracker-bar with its incidental accessory devices. Let us take these in order.
Pneumatic Stack.
In the previous chapter I have described the principles of design in a pneumatic action controlled by a single valve. This description, roughly speaking, holds good for all players of what is called the "single-valve" type, which means the type where one valve only is used between the tracker bar and the speaking pneumatic. The so-called "double-valve" type is exactly the same, save that between the valve which directly controls the pneumatic, and the tracker bar, is another smaller valve called the ''primary" valve. This valve is lifted by the air which flows down the tracker tube and in lifting exposes an opening of larger size than the tracker perforation, down which flows air to the "secondary" valve, which directly controls the pneumatic. The two valves therefore are inter-dependent, neither one being effective unless the other is also effective. It is not true, as may be seen by examining any double valve action, that the one valve operates the pneumatic if the other does not. The main reason for the use of the second valve is found in the desire to use a pneumatic larger than can be effectively exhausted by the operation of a valve small enough to be readily controlled by the amount of air which can flow down the tracker tube in any given time.
Only one vent or bleed hole is needed in the ''double" action, as the secondary channels are flushed by their air flowing back into the primary chamber and thence out to the bellows.
Assembly.
The pneumatic stack is assembled above the keys, with the pneumatics, in some sort of operative relation to the piano action, whether directly by contact with the wippens of the action or indirectly through fingers or rocking levers. Whether the pneumatics face forwards towards the front of the piano keyboard or towards the strings, makes no special difference. The valve system of the single-valve stack is mounted so that each pneumatic is placed immediately above or below its valve, in two, three or more banks. The secondary valves of the double system are placed in a chamber behind the pneumatics with the primary chamber and its valves above. It is usual to assemble the stack so that pneumatics can be detached from their positions and valves taken out, cleaned and regulated. In some players (Kimball, etc.), a separate channel above the action is provided to carry the vents, and this channel then exhausts into the pneumatic stack, or directly into the bellows system.
Motor and transmission.
No special further description of the motor and transmission, in addition to what has already been said in the previous chapter is needed here. In fact, it only remains to recount that four, five and six single-unit bellows are variously used by makers, some with a valve slide to each pair and some with a slide to each individual; whilst again some motors are made with double units, having two bellows, one above the other, working on each connecting rod. Some special types are also known, such as the cylinder motor of Gulbransen and his later models with their oscillating and rotary valves. But in all cases the principle involved is that which has already been described.
Fig. 26 Sectional view of double-valve action showing pneumatics open and closed
The spring-actuated motor of Melville Clark must also be remembered, but it needs no special description here. The transmission is a simple form of gear set, whereby the motor may drive either the take-up spool, for winding forward, or the chucks on which the roll turns, for re-winding at the close of a piece.
Spool Box.
The Spool Box is a rectangular open frame in which are placed the tracker bar, the take up spool and the music roll chucks, in addition to any tracker bar or roll shifting device that may be incorporated. Its various parts may be described as follows :
Tracker bar.
The tracker bar is usually of solid brass pierced with 88 perforations, nine to the transverse inch, and with any extra perforations that may be required for the non-speaking pneumatic devices. From its rear the perforations branch out into tubes of rubber or metal which carry from each to its corresponding valve and pneumatic in the pneumatic stack. Sometimes (Clark, Gulbransen, etc.), the tracker bar can be shifted by a thumb nut in the spool box, so that any failure of perforations in the paper roll to register properly with the tracker perforations, can be corrected. In other cases take-up spool and music roll chucks are moved by a mechanical device (Cable, etc.).
Extra perforations.
Extra perforations used as follows: a large perforation at the left side for the sustaining pedal, small perforations in duplicate at either side for automatic accent devices (see supra, this chapter), and marginal small perforations for automatic tracking devices (see infra). In some cases the latter perforations are superseded by moveable tongues of metal or similar devices to press against the edge of the paper. Player pianos of the electric motor driven type have also additional perforations to operate automatic start-and-stop pneumatics placed on the bellows system and working into tempo and action box.
Automatic tracking devices.
Although there are a dozen different varieties of these, the intention in each case is the same and the principle similar. The idea is that if the paper shifts transversely in the course of its longitudinal travel, its own shifting shall operate devices to bring it back into line. The well known device used in the Auto-de-Luxe and allied players works as follows: At either margin of the tracker is a pair of very small holes leading to tracker-tubes which run into a valve system controlling pneumatics, one to the outer and one to the inner, pair of holes. These pneumatics are connected with a lever system to the left hand music roll chuck, so that this chuck is moved transversely from left to right, accordingly as the corresponding pneumatic is operated. The music roll is always normally held hard against this moveable chuck by the pressure of the spring in the other (left-hand) chuck. When the roll travels as it should, in true register, its edges just cover each pair of marginal perforations. When, however, the paper shifts transversely, through any cause whatsoever, and so is thrown out of register with the tracker bar, one pair of holes is covered, which lets air down the corresponding tracker tubes, operates valves and the corresponding pneumatic, and causes the movable chuck to be moved transversely so as to push the paper back into register again. The box on which the valves and pneumatics are mounted is placed at the left side of the spool box, the side opposite to that on which the motor stands.
There are a dozen types of this device, as I have said, but examination of them will show that they all operate in essentially the same way.
The "parlor" electric player.
The so-called ''home electric" or "parlor electric" player is not new but a modification of existing player pianos devised to take care of a demand that may or may not be lasting. The additions consists of an auxiliary exhaust set, usually of three small exhausters mounted on a crank shaft and driven at relatively high speed by a small electric motor. This can be used to exhaust the action in place of the ordinary foot-driven bellows. The ordinary bellows system and treadles are retained, and no other change is made save an extra pneumatic governor-box to permit the starting of motor, stoppage of motor and cut-off of pneumatic stack when required at the beginning and the end of a piece respectively. These are controlled by additional perforations in paper and tracker bar.

65-note players.
The 65-note player is a thing of the past, but of course many were made and are yet in use. They cannot be said to differ very much from the more perfected types of which they are the ancestors, save that the parts are larger and clumsier and on the whole much less accessible. In many cases the pneumatic stack is built below the key bed so that it is necessary to withdraw the latter before one can get at the action at all. Although only 65 notes are operated, so that there are 23 fewer pneumatics than we need today, old pianos of this type are often quite astonishingly clumsy and huge.
It is well to note the following points as exhibiting differences from modern player-pianos:
1. The tracker scale is wider, having 6 perforations to the transverse inch. The roll is therefore somewhat wider also.
2. The rolls are pinned at the flanges, which means that a different sort of chuck to hold them is needed.
3. The action is sometimes placed below the key-bed and when this is so it is nearly always necessary to take out the entire bed to get at the action for repair or regulation.
4. Combined 65- and 88-note tracker bars were used for a time after the first appearance of the 88-note player. In all of these it is well to look out for leaks in the tracker and for all the annoyances thereby caused. These combination players are now no longer made, however, except on order.
The Cabinet Player.
Although the old cabinet or outside player is now obsolete, a great many of them were made, some with reed organs built into them and others embodying all manner of freak experiments. The range was either 58 or 65 notes and special music was therefore often necessary. The following hints may be found useful as a condensed guide to the construction of these old instruments :
Bellows.
It will be found usually that the bellows of the oldest cabinet players were developed much on the order of the reed organ, particularly in respect of having a large equalizing unit and large exhausters. These bellows are essentially slow moving and do not lend themselves to quick changes of tension level. They are covered with the kind of rubber cloth used for the reed organ, and fastened at the bottom of the cabinet in such a way that to get at them it is necessary to take out the entire mechanism from the cabinet.
In fact, it will be found that usually it is not possible to get at any parts save the motor and tracker bar without taking the whole thing from its case; in itself often a difficult and irritating job.
The various parts which go to make up the bellows system, such as governors, gate boxes and action cut-off valves, are usually found buried inside the bellows on the older cabinet players, and can only be reached through them.
Pneumatic Action.
The valve system of the cabinet player is either of the simple single valve type described in essence in the last chapter, or of the primary-secondary type as described in the persent chapter. There is nothing special to be said about the make-up of such systems in the special case of the cabinet player, save that the valve boards are sometimes found glued together in such a way as to prevent any access to the pouches.
Motor.
The motor is of the usual type, but often has only three units, which sometimes are placed at the bottom of the case. The spring-driven motor is used in the Apollo, Simplex and Needham cabinet players.
Expression.
The expression control of the cabinet player varies according to make, but the most popular arrangement is as follows: one tempo lever, one re-wind lever, one sustaining pedal lever giving direct pressure on the pedal foot of the piano, and one lever working an expression governor to switch the playing power from high to low tension at will.
In later models of cabinet player, automatic accentuation devices were introduced equivalent to those which have been adopted in similar players of the interior contained type. Such modern cabinet players, however, may be considered as virtually equivalent to the present interior mechanisms, as they contain the same devices and are built the same way.
These brief remarks will suffice for description of a type which has passed away almost entirely and no longer need engage our serious attention.
PLAYER PIANO PARTS -- GREAT SERVICE, GREAT PRICES RIGHT HERE.